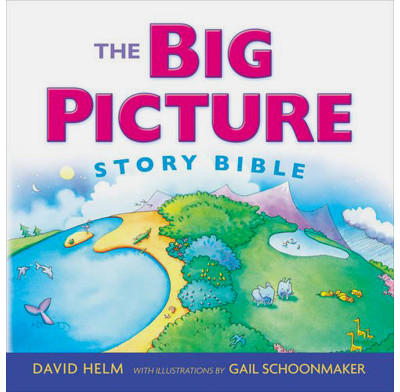 The Big Picture Story Bible (hardback)
A beautifully illustrated Bible overview showing small children God's big plan.
No child is too young to begin learning about the greatest love story of all — God's love for his people, as portrayed in the Bible.
David R Helm and Gail Schoonmaker collaborate to create a beautifully illustrated book of Bible stories especially for children, written with simplicity. Rather than simply retelling the most familiar short scenes from the Bible, this book presents the 'big picture' — the unified story running through the Old and New Testaments. This delightful book will help children learn the Bible's whole story and begin to appreciate the fulfillment of God's promise to his people.
The Big Picture Bible Story Book is perfect for parents to read to their children, and eventually, for children to read on their own. It is an excellent way to introduce them to a book that will guide them through all of life.
Contents
The Old Testament
Part 1 - The very good beginning
Part 2 - A very sad day
Part 3 - Life outside the garden
Part 4 - God's big promise
Part 5 - God's people grow
Part 6 - God's people become great
Part 7 - God's great sign
Part 8 - Going into God's place
Part 9 - God's blessings grow
Part 10 - Another very sad day
Part 11 - God's promise remains

The New Testament
Part 12 - Many silent years
Part 13 - God's promised one is born
Part 14 - God's promised one is announced
Part 15 - God's new people are called
Part 16 - Jesus restores God's place
Part 17 - Jesus restores God's kingdom
Part 18 - A blind man sees
Part 19 - A dead man is raised to life
Part 20 - Jesus wears God's kingly crown
Part 21 - Jesus' followers are in the dark
Part 22 - A brand-new day
Part 23 - God's promise is explained
Part 24 - God's new kingdom spreads
Part 25 - Letters to live by
Part 26 - The very good ending
Specification
| | |
| --- | --- |
| Age range: | 4 - 7 |
| Contributors | David Helm, Gail Schoonmaker |
| ISBN | 9781433543111 |
| Format | Hardback |
| First published | September 2014 |
| Dimensions | 234mm x 235mm x 37mm |
| Print size | 16.0pt |
| Language | English |
| Pages | 457 |
| Publisher | Crossway |
"Great Book"
Very interesting book with many colourful illustrations. My kids enjoy reading the book very muchI enjoy reading the book myself..As a new believer myself, the book serves as good summary reference supplement to the Bible especially in the Gospels. Great book and definitely worth buying!
"Great bible overview for kids"
Gods big picture for young children. My 3 year old ones it and it's a great gift for friends children who are not familiar with the Gospel.