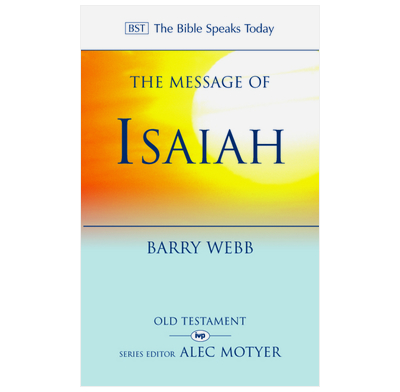 The Message of Isaiah
Barry Webb helps the normal reader to explore this giant of the Old Testament.
The book of Isaiah is outstanding in its brilliance of style, its poetic power, and its foretaste of the hope of the gospel. It tells us how God himself has provided the highway to holiness for those who have been 'redeemed' or 'ransomed'. These are images which evoke the Exodus from Egypt, and foreshadow Christ's achievement at the cross. There is tangible joy for the reader in Isaiah's portrayal of judgment - rebuilding within the demolition, the new replacing the old. In Isaiah's masterpiece, both national and world events reveal God's hand, and its good news is the very hope of the world.
Barry Webb invites his readers to see Isaiah's compelling vision of God's glory, and the wonder of access to him. Writing this book, for him, was an unforgettable flight: 'I have soared like an eagle into the heavens and seen the glory of God, and with new eyes I have seen the world and my place in it.'
Part of The Good Book Company's Commentary List, this commentary has been selected because it not only deals faithfully and carefully with God's Word but is readable, practical and accessible as well.
Specification
| | |
| --- | --- |
| Author | Barry Webb |
| ISBN | 9780851111674 |
| Format | Paperback |
| First published | July 2009 |
| Dimensions | 135mm x 215mm x 20mm |
| Language | English |
| Pages | 254 |
| Publisher | IVP |
"Very helpful and inspiring"
I am studying Isaiah with 2 Bible study groups so I bought this to use in preparation. Barry webb has A very practical approach. He is clear, thorough and at times inspiring. Isaiah is a big book in many ways but this commentary manages to be concise and yet quite deep and scholarly. His exegesis is followed by helpful and practical exposition. I strongly recommend it.