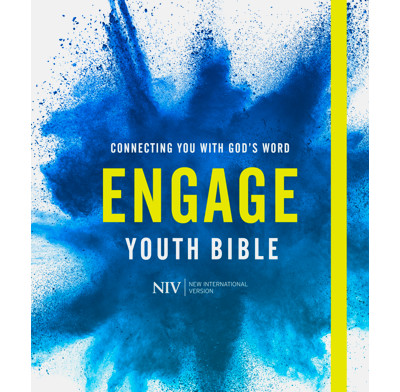 Engage NIV Youth Bible
Connecting you with God's Word
NIV Bible with articles, explanations and creative spaces to help teens read God's word.
Part of the Engage series.
NIV Bible with articles, explanations and creative spaces to help teens read God's word.
This Youth Bible features full anglicised NIV text, plus loads of extra content from The Good Book Company's Engage Bible notes, including:
• Bible book introductions
• 66 key studies, one for each Bible book
• 3-week Big Bible Story reading plan
• 12 topical Bible studies
• 70+ articles on real world issues, tricky questions, Bible doctrines and real life stories
• PLUS: 100 verses to colour, 100 guided journaling spaces, and 60 highlighted prayers!
The Engage Youth Bible seeks to connect young people with God's word—helping them to unpack the Scriptures for themselves. The aim is not to tell young people what to think about the Bible, but to show them how to think about the Bible. That's why there's an introduction covering what the Bible is, how to read it and the overarching storyline—as well as individual Bible book introductions which put passages in context, studies that model inductive Bible study, and creative spaces in which to respond.
And it seeks to equip young people for their world. With content that has been revised and updated from our popular Engage Bible-reading notes, as well as lots of brand new material, this Youth Bible will help teens think through big issues and faith questions with 80 articles on Christian living, doctrine, apologetics and real life stories.
This Youth Bible is perfect to use in conjunction with our Engage Bible Notes for young people. It features 9 point text size, 2 ribbons and an elastic cover band.
Specification
| | |
| --- | --- |
| Age range: | 13 - 21 |
| ISBN | 9781473694514 |
| Format | Hardback |
| First published | February 2020 |
| Dimensions | 170mm x 197mm x 30mm |
| Print size | 9.0pt |
| Language | English |
| Pages | 1504 |
| Publisher | Hodder & Stoughton |
Other information
Worried about size?
Download our type-size guide to check which font size is right for you.
Engage NIV Youth Bible
Alistair Chalmers, Chalmers, February 25th 2020
If you know a teenager, buy this Bible, they will love you for it!... continue reading
"Absolutely amazing!"
I love this Bible! It makes the bible so easy to understand! Amazing for teenagers!
"Well received"
This set of books was well received by the teen I bought them for. She has been using the Bible with the Engage 365.
"Speedy delivery and good looking item"
Attractive looking Bible, which is a great start as a Youth Bible. The young person I gave it to was really keen to explore it. Because of the deal I bought the 365 day engage study book to go with it. He started looking up important dates of the year to him to see what the verses would be.
I hope it will be a source of joy for years to come. It is cumbersome, so assuming it will be a bedroom study Bible rather than something he would take with him places.
"Well worth the money"
Unlike some youth or children's Bibles, there are no gimmicky pictures or 'whacky' extras- just the Bible and some really useful extras like a 21 session Bible Overview study stream, key studies for each book of the Bible, Real life stories, answers to tricky questions ( all the ones I looked at were faithful, clear and at a good level), guidesto key doctrines. I bought this for a 14 year old in church new to Christianity but hungry to find out more, and she is loving it! Im going to buy another for my son and maybe godchildren too..Thankyou all who put this together.
"Awesome!"
It was a gift to my young cousin who wanted to read the Bible for herself for the 1st time and did not know where to start. Discovering the Christian faith and Bible can be intimidating the structure, the studies and guidance is a really blessing To her and so helpful!
"Amazing service and bible"
The bible is great! Very durable,easy to read, journaling space and great notes. Would really recommend it
"My daughter loves this"
This is an excellent resource. My daughter is thrilled with it and I think I will now have to buy one for my son. It's worth every penny.
So much work has gone into it so that there are several different streams of bible study running through it. I love the fact that my daughter can do these independently in addition to the bible reading we do together (using Discover notes).
To be honest I'm often a bit sceptical about all of the different types of bibles available. However I think that this will be a great investment for my children and a real treasure trove. If you're looking for an NIV Bible for a young person, this is the one I'd recommend.