Half term baking ideas to overcome Covid barriers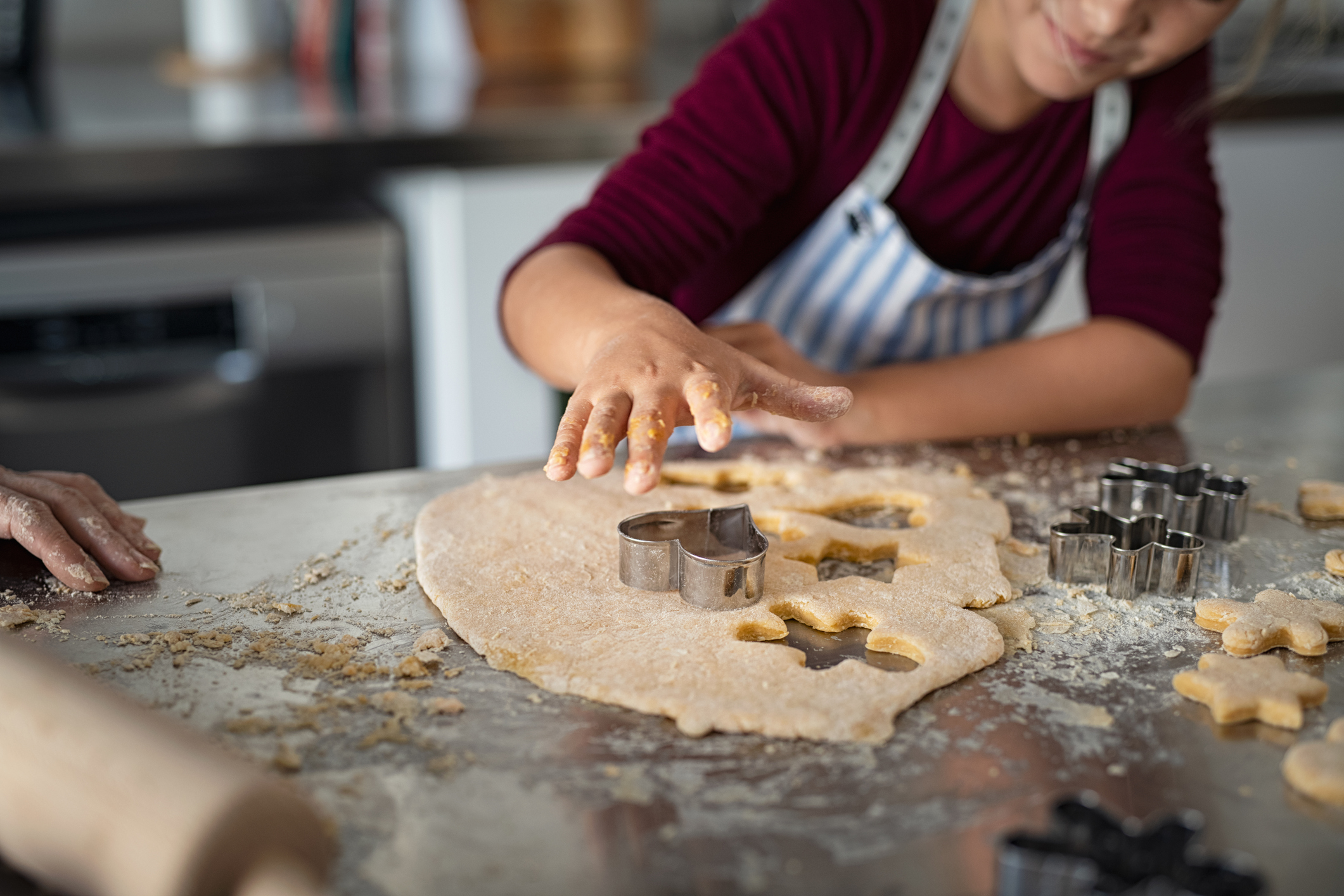 Bake Through the Bible came about through a shared desire to talk to our children about their Saviour Jesus through the everyday moments. That desire hasn't changed, but the challenges are ever changing (not to mention that we have more children to share Jesus with now!).
Bake through the Bible
£8.99
£5.99
Explore the Bible with your child while cooking through 20 delicious recipes!
On top of this, half term is very different this year: the usual lifelines of days out and visits to friends and family can't happen for many of us. So we wanted to share some of our thoughts of how we intend to share the good news of Jesus with our children in the reality of this challenging time.
It's also the time of year when shops, schools, neighbours' windows, and the TV is full of Halloween. So some of our thinking has been around how to make sure our children don't feel they "miss out" on all the fun they perceive their friends are having by "celebrating" Halloween, and instead create moments to celebrate the many, many good things that God has given to us. Here's a little of what we have planned for this half term holiday.
Bekah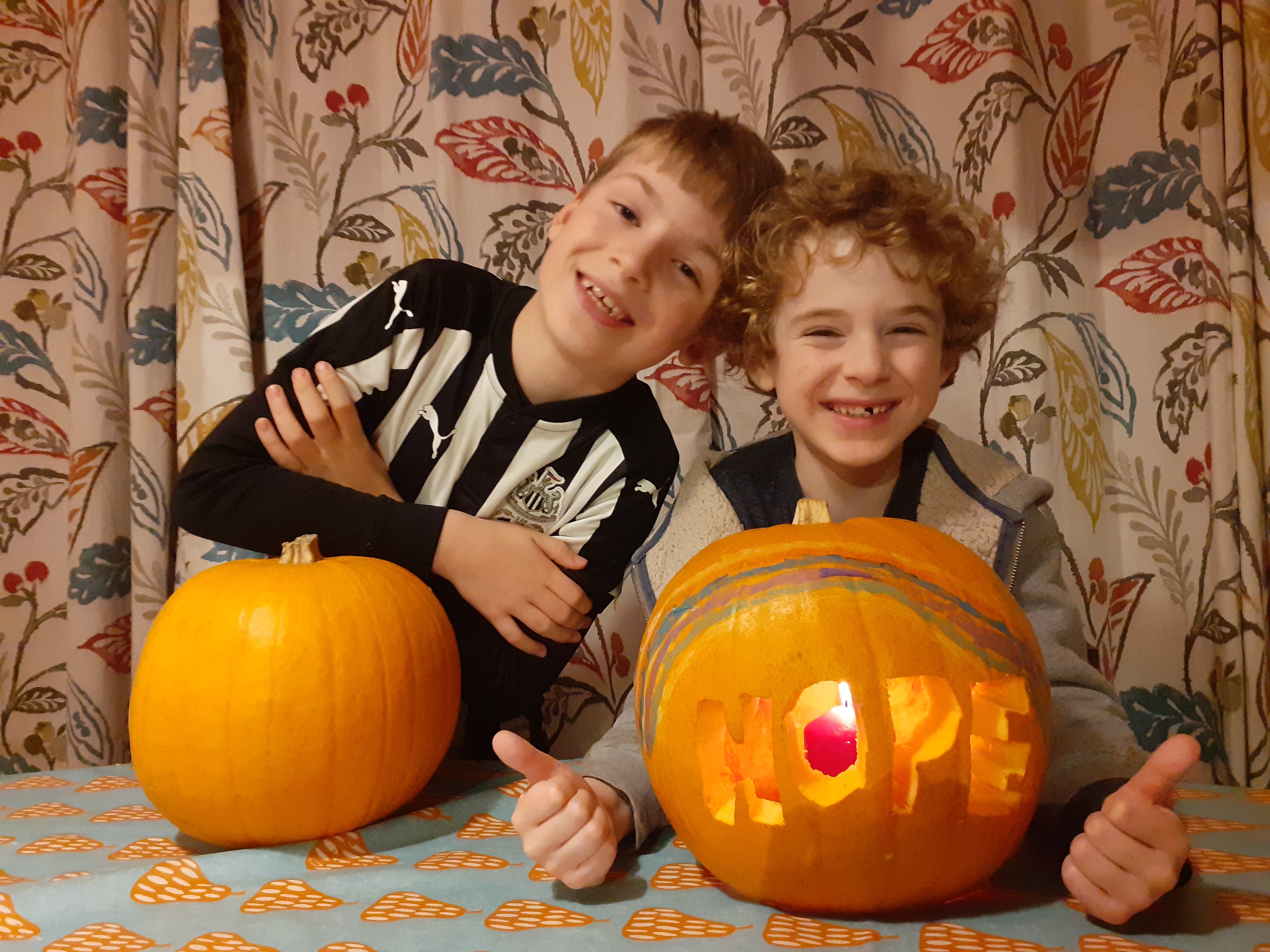 My thinking began with pumpkins, as we managed to grow three in our garden this year. However, they are mostly green with patches of orange struggling to break through, and my son Francis (7) is still not convinced they are actually pumpkins, so we've bought "real" ones for carving for the town's Pumpkin Carving Competition!
Francis has painted a rainbow on his pumpkin, and carved the word HOPE so a candle inside will light it up. I love that rainbows became a universal symbol of hope in lockdown, but I want to ensure Francis knows where our true hope comes from and why we really can trust God. So I'm hoping to make some bread shapes from Bake Through the Bible with him this week (to enjoy with pumpkin soup?)—a chance to teach him that God promised Abraham that his family would grow, and it did, because God always keeps his promises! And maybe I will create a window display with Francis' pumpkin sharing our hope with our neighbours…
Simeon (9) likes the idea of his pumpkin becoming the Cookie Monster, so I'm thinking we'll make some creation cookies from Bake Through the Bible to sit inside its mouth and provide an opportunity to remind him that God is the king of creation. Cookies are great for a child with a very short attention span, as I can do much of the prep beforehand (or buy ready-made cookie dough), and he can simply cut out the shapes and decorate. I've discovered edible writing pens, so he doesn't have to struggle with traditional icing pens, and it creates less mess.
Susie
The prevalence of pumpkins has got our household thinking too. We enjoy an annual visit to a Pick Your Own Pumpkin farm, as much for the quintessentially autumnal sight of a field peppered with these orange globes as for anything we bring home. The variety of shapes and sizes of different kinds of squashes are a visual delight and offer plenty of potential in the kitchen too.
We're planning an autumn banquet—in essence, a focal point at which to channel our creative efforts and use as an opportunity to celebrate God's abundant provision. Some kind of homemade vegetable soup will feature: there's a role for everyone in the preparation, whether it's peeling and chopping for the older ones or throwing the pieces into a pan. We'll make a salad with as many different colour vegetables as we can manage, and the centrepiece will be a whole baked and stuffed pumpkin, which has become something of a family favourite. Simply put, you scoop the seeds out of the pumpkin and then fill it with a mixture of softened onions, breadcrumbs, double cream and grated cheese. Perfectly warming as the nights draw in. The gooey chocolate desserts from Bake Through the Bible will most likely make an appearance too: this is a banquet after all! My hope is that the conversation around the meal table will include the opportunity to give thanks—for some of our favourite foods and many other things besides—and to point forward to God's new creation where life will be immeasurably more wonderful!
Susie is married to Pete and lives in Southampton (UK). They have four children: Joshua (9), Molly (7), Roseanna (4) and Joel (6 months).
Bekah is married to Nick and lives in Spennymoor (Durham, UK). They have three sons: Simeon (9), Francis (7), and Phoenix, who is already in Heaven with Jesus.