Why and How to Pray While You're Grieving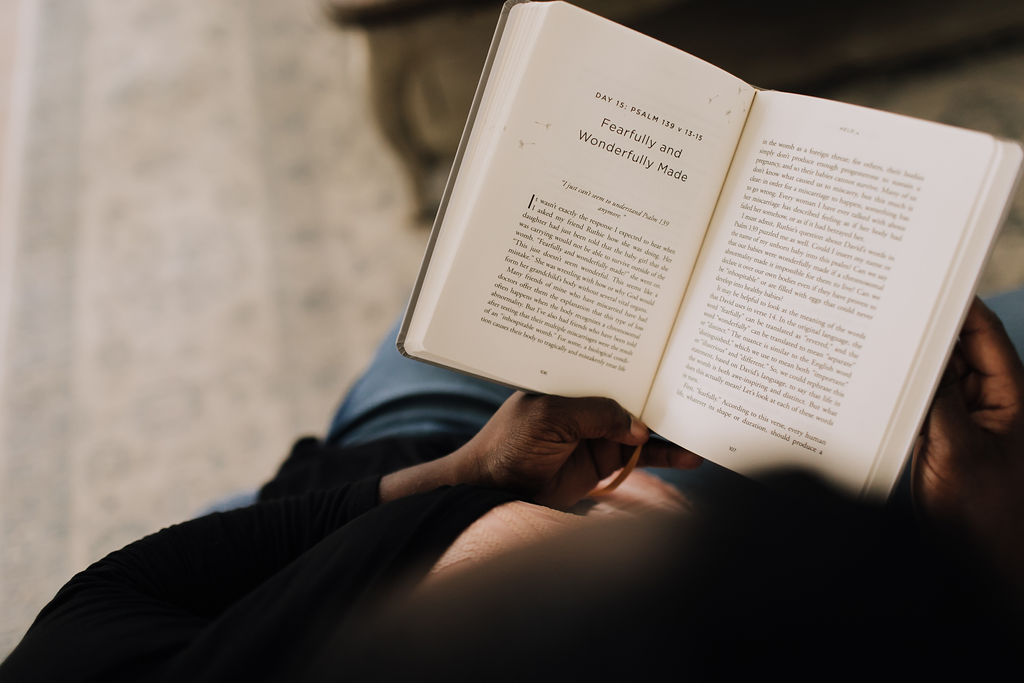 I have never prayed more boldly than in the weeks leading up to our miscarriage. I have also never experienced a more definitive "no" to so many consecutive prayers. Our baby's limbs and organs did not form as I prayed for each of them specifically. The child's health was not granted. His or her life was not preserved. And then, though I pleaded, my body was not able to recognize what had happened and miscarry naturally.
God Hear Our Prayers When We Grieve
Experiences like this can leave us confused. We "believe for" a miracle but don't get what we're begging for; we make ourselves vulnerable and end up feeling duped. Doubt, fear, and cynicism creep in and cause us to wonder:
Does God not hear me?
Am I doing it wrong?
Why pray at all if it doesn't make a difference?
In verses Psalm 139:2-4, David helps us to lay the first of those questions to rest. Not only does God hear our prayers; he actually searches out our thoughts and knows the words on our tongues before we speak them. There is no point in even trying to keep our most honest emotions and desires from him.

Held
£11.99
£10.19
31 biblical reflections on God's comfort and care in the sorrow of miscarriage.
Prayer Strengthens Us In Our Grief
As we consider this, our hearts may still be cynical:
Why bother praying if he already knows?
And what's the point in baring my soul if he already knows what he's going to do anyway?
Jesus' petition in the Garden of Gethsemane offers us a great deal of help as we grapple with these questions surrounding prayer in the wake of disappointment. On the night of his betrayal, he pleaded, "Abba, Father, all things are possible for you. Remove this cup from me. Yet not what I will, but what you will" (Mark 14:36).
Luke 22:43-44 tells us that then "there appeared to him an angel from heaven, strengthening him. And being in agony he prayed more earnestly; and his sweat became like great drops of blood falling down to the ground."
The angel is God's response to Jesus' first request. He comes to strengthen Christ to do what he must.
Prayer Has a Point, Even In Painful Circumstances
Suffering, like miscarriage, finds us in that space of ungranted petitions, where cynicism tempts us to cease to pray altogether, whispering that God doesn't care or that praying doesn't make a difference. But in the example of our Savior we see that prayer is anything but pointless.
When it becomes clear to Jesus that his prayer for a change in circumstances will not be granted, he prays all the more earnestly, "with loud cries and tears" (Hebrews 5:7), because he knows he needs the Father. His reaction to experiencing the "no" to his petition is to entrust himself and his circumstances to God.
Jesus knows that God is perfectly able to change his circumstances but trusts that, even if he doesn't, his purposes are still perfectly loving and wise, and that he will provide the strength to endure.
You Can Draw Near to Our Loving, Comforting God Through Prayer
Because of Jesus' perfect submission to his Father's will—his obedience to the point of death—as believers we can be confident that when we pray, we are not just heard as created beings but listened to as beloved children.
The God who possesses all power, knowledge, and sufficiency loves us and is more on our side than anyone—even ourselves. Knowing this means we see his omniscience and omnipotence not as reasons not to pray but as motivators to pray. It is precisely the combination of God's great power and his great love for us that should make us run to him when we are undone by the circumstances of our lives.
Jesus won us that access by drinking the cup of God's wrath, so that when our own cup of suffering does not pass, we can draw near to the throne of God with confidence that we will receive mercy and grace in our time of need, just as Jesus was strengthened in the garden (Hebrews 4 :16).
Even when we don't know how to pray, the Spirit, who enables us to cry "Abba, Father," helps us in our weakness, interceding for us through wordless groans (Romans 8 v 15, 26).
Prayer Will Make a Difference In Your Suffering
Prayer will make a difference in your suffering, even if it doesn't make a difference in your circumstances, because it will undoubtedly make a difference in you. Day after day, as you bring your complaints, your laments, and your heartache to your Father, you will come nearer to his heart.
Experiencing his listening ear and remembering his sovereign care and love for you will gradually uproot your cynicism. Little by little, you will move from hoping for a change of circumstances to placing your hope in the unchangeable God.
You can continue to pour out your heart, even in agony and disappointment, because of who you know God to be and because of who you are in Christ. God is your "Abba, Father." And you are a beloved child.
This is an extract from Held: 31 Biblical Reflections on God's Comfort and Care in the Sorrow of Miscarriage by Abbey Wedgeworth. The 31 biblical reflections in this beautiful and comforting book remind grieving women that God sees them, knows them, loves them, and is actively caring for them.