The end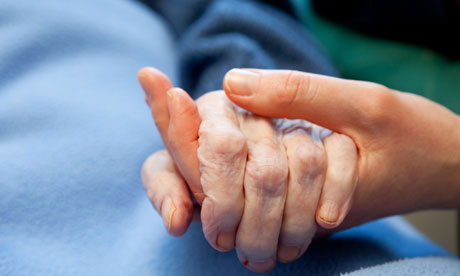 This weekend a magazine insert caught my eye. I don't think I've ever seen such a leaflet widely distributed before. It was a leaflet from an organization which offers assisted-suicide services at their premises in Switzerland.
It is not news that some diseases in this fallen world bring terrible suffering. Nor is it a surprise that human beings wish to escape the pain that can come with terminal illness. Few of us relish the thought of long-term agony. And as I read the featured story, I did have some empathy for the British woman planning to end her own life. I have sat with relatives at the end of their lives and a peaceful death is certainly easier to cope with – for both patients and relatives – than a traumatic one. But as I read the leaflet (and subsequently browsed the website) I was repeatedly struck by just how the much the literature differs from a biblical view of life.
Fearfulness
The Swiss team are clear that many of their clients are motivated by fear. The fear of long-term unconsciousness, the fear of unwanted medical intervention – be that drugs or surgery, the fear of living longer than they want to in a state of distress.
Hopelessness
They infer that the end of a terminal illness or a degenerative disability is often a period of hopelessness with the patient having little or nothing to look forward to but pain, dependence and lack of dignity.
Independence
While emphazing the need to bring relatives into the end-of-life discussions, the ethos of the organization seems to be to let individuals make decisions about "their" life.
Control
And in the face of being unable to halt the progress of a disease or degeneration, in a context where medical doctors are trying to impose unwanted life-promoting treatments, the best course of action seems to be to take control. To grasp the ultimate act of self-rule and end life completely.
The Bible paints a very different picture.
Life following Jesus is not a life free from pain and hardship but it is a life where we can be confident that nothing that we face can separate us from the source of all hope and all love (Romans 8:38-39). We follow a King who has all things perfectly under control (Hebrews 2:8) and who helps us in our weakness (Romans 8:26). God says "So do not fear, for I am with you; do not be dismayed, for I am your God. I will strengthen you and help you; I will uphold you with my righteous right hand" Isaiah 41:10. And, astonishingly, he enables people even in extreme situations of various kinds to experience contentment and trust (Philippians 4:12-13) as his immense grace and mercy spur people to persevere until he calls them home to live in a place of complete perfection (Revelation 21:4).
The difficulties of terminal illness; the frustrations of degenerative diseases should never be underestimated. There are few human trials more difficult to negotiate. But in the midst of such pain, it is vitally important to let the truth of the gospel sing out with confidence so those who struggle can be offered the not just the hope of escape by a clinic on the continent but the hope of eternal bliss, unending relationship, freedom from fear and a great God who can be trusted without doubt through every step of life's journey.