Book review: I wish Jesus hadn't said that ... But I'm really glad he did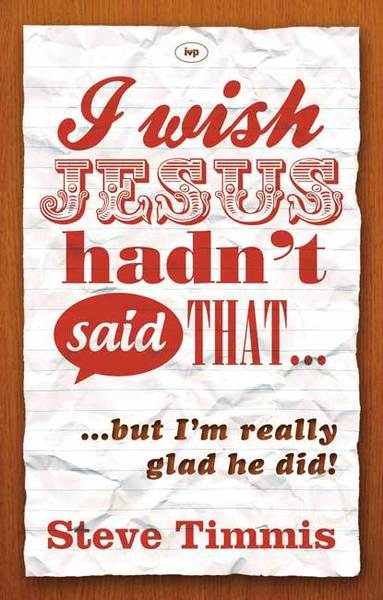 Jesus certainly isn't convenient. All that stuff about denying self, loving enemies, being sacrificially generous, forgiving those who wound us and spreading the gospel across the globe can seriously get in the way of our comfortable lives! So is the Christian life worth all the effort? It certainly is ...
In his easy to read book, Steve Timmis looks at 10 tough calls of Jesus and, in turn, humbly shows why the sacrifice they demand is completely worth it right now and always.
With Bible passages simply explained and illustrations throughout that will simultaneously make you smile and think, this book is a great spur to faithfulness. It encouraged me to take stock of my life in light of Jesus' work, pray and reorientate my priorities - in so many ways. As I went through its pages, my doodles included questions that I wanted to ask myself at a later date:
What does my shopping basket say about my service of God and money?
What does my attitude to that irritating person [insert name here!] say about my love of enemies?
What does my prayer life say about my understanding of what it means to be blessed in persecution?
What does my tongue reveal about the anger in my heart?
What do my friendships show about my willingness to get involved in evangelism?
and most importantly
Am I remembering Jesus' work regularly?
because, without relying on his grace, I cannot act in ways that reflect him well ...
This is a great book to read on holiday when you've got some extra time to reflect on what's really going on in your life (I took my copy to Devon - sunny, peaceful, wonderful!). You can probably rush through it in a few hours but to get the most out the pages you'll need some mulling time - it's not a book just to inform your head but one that will nurture your heart. And because of that, it's one that is certainly going on my "read it again in two years time" list too ... The gentle challenges it contains are ones that I'm pretty sure I'm going to need to hear more than once!
Get it here. And do please go for it ... This is not a book you will regret buying!