Jonathan Gemmell is Director of Conferences and Resources at The Proclamation Trust. Before this he was Lead Pastor of Bruntsfield Evangelical Church in Edinburgh. Jon is married to Aileen and is obsessed with the game of cricket.
Resources by Jonathan Gemmell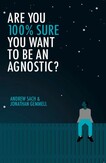 Are You 100% Sure You Want To Be an Agnostic?