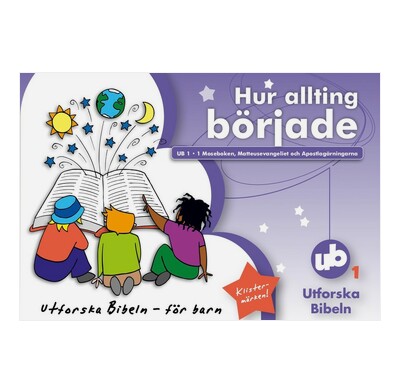 XTB 1: The Book of Beginnings (Swedish)
Bible discovery for children
Investigate the book of Genesis, Matthew and Acts. See how God always keeps his promises.
Part of the XTB series.
Investigate the beginning of everything in the book of Genesis.
Zoom in on Matthew and Acts to discover who Jesus is and why He came.
See how God always keeps his promises.
Issue One of XTB is called The Book of Beginnings and will help 7-10 year-olds investigate the beginning of the universe, the beginning of the early church and the beginning of Jesus' life and teaching on earth - plus you get free Stickers!
Contents
The first 15 days look at Acts, chs 1-4.
Days 16-29 make a start in Genesis, chs 1-9.
Day 30 takes a little look at Hebrews 11:7, relevant to Genesis.
Day 31 starts Matthew and continues to Day 50, ending in ch 7.
Day 51 picks up in Genesis again and covers chs 12-22 over 14 days.
A series of puzzles and questions at the very end of the book offer a chance to look into other parts of the Bible not covered here.
Specification
| | |
| --- | --- |
| Age range: | 7 - 11 |
| Contributors | Alison Mitchell |
| ISBN | 9789198610352 |
| Format | Saddle stitch |
| Dimensions | 210mm x 147mm x 5.3mm |
| Language | Swedish |
| Pages | 80 |
| Publisher | Rotad |
Also available in
Other information
XTB (eXplore The Bible) is a series of daily Bible reading notes for children of the 7-11 age group, with puzzles, pictures and prayers.
XTB is beautifully presented with full-colour illustrations and is a series of 12 books which, if used on a quarterly basis, will help a child cover all of the main books, themes and characters of the Bible in 3 years.
Look out for Table Talk - a book of daily Bible times for families with children aged from 4 upwards. The Bible passages are the same each day for XTB and Table Talk - so you can use the two books together, or on their own. Whichever suits you best.