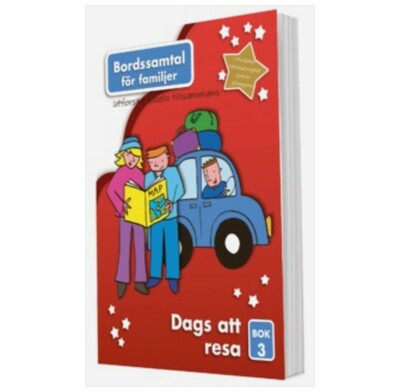 Table Talk 3: Comings and Goings (Swedish)
Bible discovery for families
Three months of Bible readings based in the books of Exodus, Matthew and Acts.
Part of the Table Talk series.
Issue Three of Table Talk is called Comings and Goings. It contains three months of Bible readings based in the books of Exodus, Matthew and Acts and the pages are undated. It will help you explore Jesus' miracles and teaching in Matthew's Gospel, escape from Egypt with the thrilling book of Exodus, and join Paul on a dangerous journey in the book of Acts.
Contents
The first 15 days go through Acts chs 15-18
Day 16 dives into Exodus and looks through chs 1-4 over 9 days
We then pick up in Matthew chs 13-18 between days 26-45
Day 46 brings us back to Exodus and we go through chs 5-12 until day 61
A quick flashback to Genesis on day 62, relevant to Exodus
And then back again the next day to Exodus, until day 65, ending in ch 14
A series of puzzles and questions at the very end of the book offer a chance to look into other parts of the Bible not covered here.
Specification
| | |
| --- | --- |
| Age range: | 4 - 12 |
| Contributors | Alison Mitchell |
| ISBN | 9789198610338 |
| Format | Saddle stitch |
| Dimensions | 169mm x 239mm x 3.5mm |
| Language | Swedish |
| Pages | 48 |
| Publisher | Rotad |
Also available in
Other information
Table Talk is for families with children from 4 yrs and up to use for daily Bible times. Each day takes about five minutes, maybe at breakfast or after an evening meal. Choose whatever time suits you best as a family.
Table Talk links in with XTB Bible reading notes for children. (XTB stands for eXplore The Bible). The Bible passages are the same each day for Table Talk and XTB - so you can use the two books together, or on their own. Whichever suits you best.