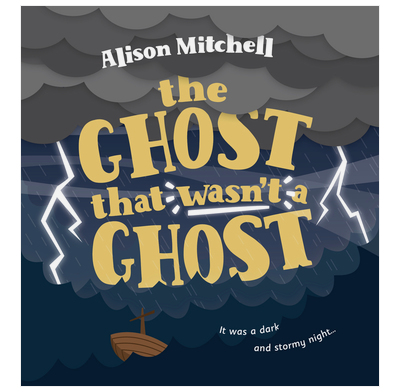 The ghost that wasn't a ghost
It was a dark and stormy night...
Children's story leaflet retelling Jesus walking on the water. Particularly suitable at Halloween.
As Peter peered out across the sea, wiping the rain from his eyes, he thought – just for a moment – that he saw something. It looked… surely it couldn't be… but it did look like… "Aagh! It's a ghost!" his friends yelled, and cried out in fear. They were terrified!
But even though it looked like a ghost, it wasn't. It was a man. And not just any man. They knew this man; he was their friend. This was Jesus.
"Have courage!" he said. "It's me. Don't be afraid."
This fun, engaging tract, based on Jesus walking on the water in Matthew 14 v 22-33, is suitable for children aged 6-11 at any time of year, but particularly at Halloween.
Contents
• The ghost that wasn't a ghost
• The true story of the ghost that wasn't a ghost
Free extras
Specification
| | |
| --- | --- |
| Age range: | 6 - 11 |
| Contributors | Alison Mitchell |
| ISBN | 9781784982607 |
| Format | Tract |
| First published | July 2017 |
| Dimensions | 141mm x 148mm x 1mm |
| Language | English |
| Pages | 6 |
| Publisher | The Good Book Company |
"A great tract to give away at Halloween"
I bought these to give away to trick-or-treaters, and was really happy with them. I'm not always wild about tracts on Halloween because they can seem to major on how evil the whole event, and by extension the trick-or-treat children are - focusing on the negative rather than the positive of knowing Jesus. Here, the "ghost" theme ties in nicely, while pointing to Jesus and the amazing fact that he's the Son of God.
"Ideal for trick or treaters"
We bought these for trick or treaters this Halloween. The booklet fits nicely in with a bag of sweets, the design is engaging, and the content is clear. A much better way to bless our neighbours than hiding in the house with the curtains closed!