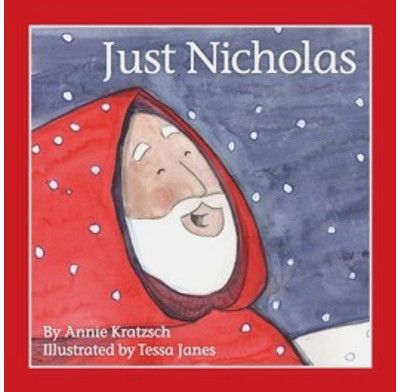 Just Nicholas
A Story Older than Santa
Read the true story of Saint Nicholas of Myra, the man who gave what he had to help others because he was grateful for what God had given him.
Read the true story of Saint Nicholas of Myra, the man who gave what he had to help others because he was grateful for what God had given him.
As a young boy, Nicholas learned the story of Jesus from his parents. When he grew up, he lived out his Christian faith in a unique and selfless way that we still celebrate today.
The stories we tell about Santa Claus say that he gives only to those who are good or nice. The story of Nicholas reminds us that God gives based not on what we deserve but on his overflowing love for us.
A helpful parent resource section includes questions to explore with your children as you read Just Nicholas and make the man before Santa part of your Christmas tradition.
Specification
| | |
| --- | --- |
| Age range: | 3 - 7 |
| Contributors | Annie Kratzsch |
| ISBN | 9781922206794 |
| Format | Paperback |
| First published | November 2015 |
| Dimensions | 228.6mm x 228.6mm x 5.1mm |
| Language | English |
| Pages | 24 |
| Publisher | Matthias Media |
"Great service"
The item was posted promptly and arrived in an excellent condition. I would use this company again.
The book itself is also great. I was specifically looking for a book to explain to my 6 year old where the idea of Santa Claus/Father Christmas came from and told him beforehand about St. Nicholas.
Very pleased with my purchase as my son loves to read and by knowing the story can choose for himself whether he wants to believe in Santa or not.
"Great book shared with me on Christmas Eve 2020"
Just wish I could find a copy for my own library Thanks for any help you could give!
Eleanor
"Great to explain where Father Christmas comes from"
We decided not to do Father Christmas with our kids, so have instead read this to them near Christmas time from when my oldest was about 2. Both my boys have enjoyed reading this book on repeat and like the illustrations in it. It is a great way to see how Nicholas loved Jesus and wanted Him to have the glory, as Nicholas helped others out of love for Jesus. At the end it explains how stories have grown up about Nicholas and those stories are today's Father Christmas. If you also decide not to do FC, I would highly recommend this resource to you. Nicholas' story comes alive in a beautiful way that explains the gospel and how we can help others with what we have. However, I would be wary giving it as a gift outside your family as it categorically states FC is not real.
"Read first before giving!"
Lovely book: beautiful illustrations and nicely written. However, I'm really glad I ordered the copy to come to me instead of straight to my god daughter. I thought the book would be a nice link between Father Christmas and the love of Jesus - which it is, but probably for an older child who knows the truth about Father Christmas! That age is different for every family, but this book does give it away! The style suggests this book was intended for under 6, I would say, but I think I'll wait til my god daughter is nearer 9 or 10 but then she might find the illustrations too babyish. Tricky!