Ephesians For You
ebook
For reading, for feeding, for leading
Excites ordinary Christians in their faith and equips teachers and preachers in their work.
Part of the God's Word For You series.
In a world where Christianity seems increasingly sidelined and even irrelevant, we need to grasp the truths of this faith-affirming, life-changing letter. Ephesians For You helps readers see how being "in Christ" changes everything—our view of ourselves, our world, our future, our church, homes and workplaces.
Richard Coekin, author of A Few Good Men and Our Father, brings his trademark clear teaching and challenging application to every page.
Use accompanying Ephesians Good Book Guide in small group Bible studies.
Contents
Introduction
1. In him
2. A lesson in prayer
3. Once dead, now raised up
4. The only real peace
5. Mystery revealed
6. Grasping the dimensions of divine love
7. Working for unity
8. The difference faith makes
9. Sex life
10. Married life
11. Home and work life
12. Wear God's armour
Glossary
Bibliography
Free extras
Specification
| | |
| --- | --- |
| Author | Richard Coekin |
| ISBN | 9781784980313 |
| Format | Digital Download |
| First published | June 2015 |
| Language | English |
| Pages | 224 |
| Publisher | The Good Book Company |
This book on Ephesians is a must-read. Richard has been grappling with this great epistle for some time in his preaching and now, in this commentary, has distilled the spectacular message of Ephesians. I thoroughly recommend it.
Of the writing of commentaries there is no end, but few are the commentaries that are simultaneously careful with the text, yet cast at the level of popular exposition—and this one is among the very best. It is a book you can recommend with confidence to just about anyone, for Richard Coekin manages to bring together an appropriate attention to detail, good writing, the sweep of the argument, and clear-sighted vision as to how this part of the Bible must work out in our lives.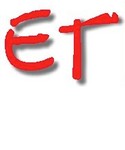 Ephesians For You
Tony Pietersen, Evangelical Times, September 1st 2015
It is a refreshing and helpful resource to assist both new Christians and seasoned pastors in understanding Ephesians. It tackles difficult doctrines in a clear and helpful way and shows the epistle's relevance for today.... continue reading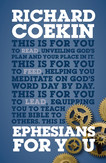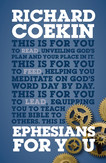 "See review below "
If you are at a loss at how to study the Bible, these series of books are excellent. I am particularly enjoying the Ephesians study. It is packed with content, fresh insight and practical application. I love the way Richard Coekin writes, he has a knack of exciting you about Gods word - and whats not to get excited about!!