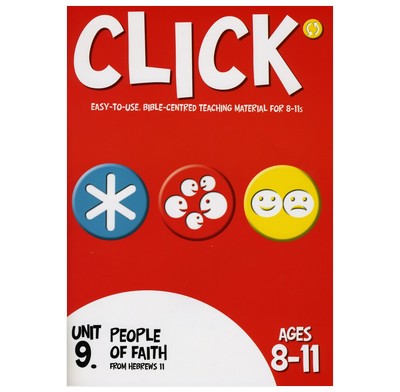 Click Unit 9: 8-11s Leader's Manual
ebook
Easy-to-use, Bible-centered teaching material for 8-11s
Unit 9 for 8-11s looks at the subject of 'People of Faith from Hebrews 11'.
Unit 9 for 8-11s looks at the subject of 'People of Faith from Hebrews 11'.
This manual is designed to be used with the specific child's component and posters for this unit. There is also a Leader's Pack available.
CLICK is a Bible-based programme for teaching and discipling children from 3-11 years. The CLICK curriculum is based on the belief that the Bible's own theological framework should direct what is taught and how it is taught. CLICK is Bible-based, teaching the major events, concepts and doctrines of the Bible. It's also great fun!
Each comprehensive Leader's Manual includes:

ten Bible teaching sessions
engaging and purposeful activities, games and crafts
music suggestions
extension ideas for more able children
photocopiable masters for visual aids and activities
PDF versions of the CLICK resources allow you to download each manual electronically and share it with up to 3 leaders. This saves you having to pass the book around your fellow leaders or buy a manual for each leader. The price is the same as one physical copy of the manual, but can be shared with up to three other people.
Who can I share the licence with?
These licences are designed for use within your own organisation, church or ministry, for example among other children's workers, or Sunday School teachers. They cannot be shared with people from different churches or organisations who will need to buy their own licences/pdfs.
Contents
People of Faith from Hebrews 11
1. God's big plan
2. Noah (Hebrews 11 v 1,7; Genesis 5-9)
3. Abraham (Hebrews 11 v 8-22; Genesis 12, 15, 22)
4. Moses (Hebrews 11 v 23-29; Exodus 3, 14)
5. Rahab (Hebrews 11 v 31; James 2; Joshua 2, 6)
6. Keep on going by Faith (Hebrews 11 v 39-40, 12 v 1-3)
7. Gideon (Hebrews 11 v 32-34; Judges 6-7)
8. Deborah (Hebrews 11 v 32-34; Judges v 1-22)
9. Samson (Hebrews 11 v 32-34; Judges 13-16)
10. This is it (Hebrews 1 - 12 v 3)
11. Easter - The Emmaus Road (Luke 24 v 1-35)
Specification
| | |
| --- | --- |
| Age range: | 8 - 11 |
| Author | Alison Mitchell |
| Format | Digital files |
| First published | July 2017 |
| Language | English |
| Pages | 96 |
| Publisher | The Good Book Company |