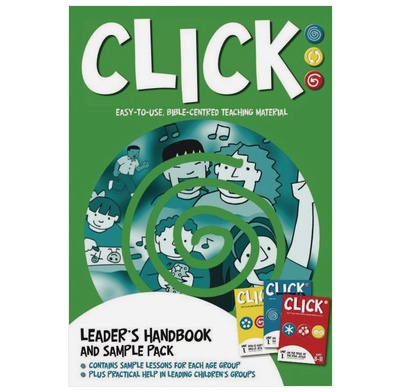 Click Sunday School sample pack
Easy-to-use, Bible-centred teaching material
A sample pack of Click, an adaptable and comprehensive curriculum for Sunday schools.
Part of the Click series.
Welcome to a great new way to teach children the Bible. CLICK is an adaptable and comprehensive curriculum for Sunday schools.
We have produced a combined Leader's Handbook and Sample Pack. This is a 64 page book, which includes a leader's handbook with practical help in running children's groups, as well as sample lessons for each of the three age groups (3-5s, 5-7s & 8-11s). This book will be accompanied by samples of the take-home components for the children - a set of mini-posters for 3-5s, a treasure box for 5-7s and an activity book for 8-11s. This complete package is available for a cost of £2.50.
However, we didn't want this to be the only way that people could see the sample lessons - and are well aware that some people will not want to pay to be able to assess the suitability of Click for their own groups. For this reason, we are also making the sample lessons available as a free download here.
Contents
How CLICK is put together
Introduction to CLICK for 3-5s
Introduction to CLICK for 5-7s
Introduction to CLICK for 8-11s
Managing each moment
Praying with children
Reading the Bible with children
Helping children remember Bible verses
Special needs
Questions and answers
About boys
About girls
Recruiting leaders
Helping children become God's friends
Building bridges with parents
Syllabus overview for 3-5s
Syllabus overview for 5-7s
Syllabus overview for 8-11s
Order form
Free extras
Specification
| | |
| --- | --- |
| Contributors | Alison Mitchell |
| ISBN | 9781904889700 |
| Format | Multiple-component retail product, loose |
| First published | November 2005 |
| Dimensions | 210mm x 297mm x 8mm |
| Language | English |
| Pages | 64 |
| Publisher | The Good Book Company |
Other information
This combined Leader's Handbook and Sample Pack is bursting with practical help in running a children's group, as well as sample lessons from the new CLICK teaching material.
Leader's Handbook



How to manage your group

How to recruit and encourage new leaders

How to pray with children

How to help children read the Bible for themselves

How to teach memory verses

And much more...
CLICK Sample Pack



Sample lessons for each age group (3-5s, 5-7s & 8-11s)

Examples of take-home child components

Full syllabus for each age group
CLICK is a Bible-based programme for teaching and discipling children from 3-11 years. The CLICK curriculum is based on the belief that the Bible's own theological framework should direct what is taught and how it is taught. CLICK is Bible-based, teaching the major events, concepts and doctrines of the Bible. It's also great fun!
Each unit of CLICK includes:



a comprehensive leader's manual

ten Bible teaching sessions

engaging and purposeful activities, games and crafts

music suggestions

extension ideas for more able children

photocopiable masters for visual aids and activities

full colour leader's visual aids

take-home components for the children. (These vary with each unit eg: a set of mini-posters, treasure box or activity booklet.)
CLICK is based on the kids@church programme from CEP Australia. The material has been revised, expanded and redesigned for use in the UK.
"Good but not suitable for where I wish to teach"
It was extremely helpful to see this material but it did not fit in with the situation I wished to teach in. That is because it dealt with a group of children with a lot of space to act things out. All good but not the situation I was in. The visual aids were good and an excellent quality (very important). Some of the explainations were a bit 'American' and as I am a retired person, maybe I wasn't too comfortable with that! On the whole good but not suitable for what I wanted.
"Comprehensive sample"
This is a thorough sample of the Click Sunday School teaching materials for all ages. It indicates that the "syllabus" is well prepared and there is quite a bit of prep to do for each lesson.
"Good service and materials"
I was happy with the materials for the classes I want to teach and was very satisfied with the service and speed of delivery.
"Excellent resource for teaching "
Valuable resource for teaching with all I need for each weeks lessons.Enjoy all that is enclosed to assist in making the lesson come alive .
"A very helpful sample"
This sample pack was very helpful in giving us an idea of the resources for each age group and the materials available. It is also very reasonably priced. Somehow a hard copy is easier to envisage using than just looking at resources online.
"Sunday School"
My Daughter asked me to order these books as she is a sunday school teacher and the books they have were a bit outdated and the books along with the work that Julia put in has worked they have more children in the sunday school now than they have ever had.
"Excellent Sample Pack"
Excellent. Super Speedy Delivery. Well thought out. Good overview of different age groups. Just started using Click for 8's and unders and 8's and overs - looking good so far... :-)
"Excellentoverview and samples"
Attractive and comprehensive presentation of concept of CLICK with full examples of lessons (materials) and syllabus. Helpful additional articles included. All that is needed to know whether it is right for your group.
"A great introduction to Click materials"
This selection of lessons enabled us to compare Click with other materials on the market. The pack includes samples of visual aids and full lesson plans for different age groups, so we were able to form an informed view on what was being offered. Our team of new Sunday School teachers in our Church plant was unanimous in enthusiasm and we are now using Click for our embryonic Sunday School - two four year olds and one two year old - with great success!
"Very helpful"
Helpful economical way to get idea of what Click series offers.