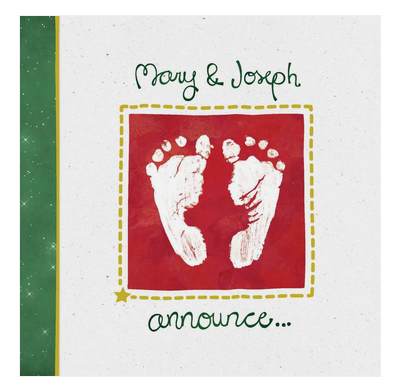 Christmas Tract - Birth Announcement
A short, readable Christmas tract explaining the gospel message based on the way Jesus' birth was announced.
The birth of a baby is great news to share with world. But perhaps the strangest series of birth announcements of all time was when a child born in poverty was talked about by prophets hundreds of years beforehand, promised by an archangel to a young virgin girl, and then greeted by a massed choir of angels to a group of peasant shepherds.
Birth announcements don't get weirder than this...
This short readable Christmas tract explains the gospel message based on the way Jesus' birth was announced. Ideal for including with your Christmas cards or for local area distribution.
Free extras
Specification
| | |
| --- | --- |
| Age range: | |
| Contributors | Tim Thornborough |
| ISBN | 9781908762221 |
| Format | Tract |
| First published | August 2012 |
| Dimensions | 99mm x 105mm x 1mm |
| Language | English |
| Pages | 6 |
| Publisher | The Good Book Company |
"Great to send out with Christmas cards"
Ideal to put in with a Christmas card but don't be daft like me and think you ordered 2 multipacks and instead ordered 2 singles!
"Excellent Presentation Idea."
This is an excellent Christmas Message Tract. However, sensitivity is advised when distributing it. The title of birth and babies can be a sensitive subject especially for couples who have had miscarriages or have failed to conceive.
"The reality of God with us!"
Jesus came into our world, identifying himself with every born human being! This connection with the picture of the unborn, newly born babies feet emphasises the Good News the Angels sang of at His birth! Jesus the reason for the season, this tract is a great tool to share with those in our community in lead up to Christmas!
"Very useful resource"
We distributed this on Christmas Day & many people found it very helpful. It's printed on good quality paper. I've given it 4 stars due to the fact that the print is very small which would probably be difficult for the elderly.
"Just what we need"
Just what we needed to give to parents and carers at Toddler Group. Highly commended.
"An appealing Christmas tract"
A lovely, well produced, appealing gospel tract, ideal to give away at Christmas. A version in larger print would be helpful for those who need it.
"A fine Christmas tract"
We purchased these to hand out as part of our outreach to Rugby town where we live. We arranged a free Christmas parcel wrap on the Saturday before Christmas from 10 am to 4 pm in the indoor shopping mall. We actually wrapped our last parcel at 4.45 pm! We were free to distribute Christian literature and invitations to the Church. Thank you for providing us with this modern tract.
"Good product - small print"
This product arrived the next day, beautifully packaged. It was very well received by my colleagues. Just one problem, the print is extremely small, so I don't know if anyone will actually bother to read it!
Thanks for the review! The font size in the tract is 8 point, which is similar to most pew bibles.
"attractive and attention grabbing good news!"
We used this tract to give out to our young teenagers at our weekly youth club. The size is compact for them to stick in a pocket and read later. The gospel message was clearly presented and the curiosity factor of the cover page "announcement" was an attention grabber!