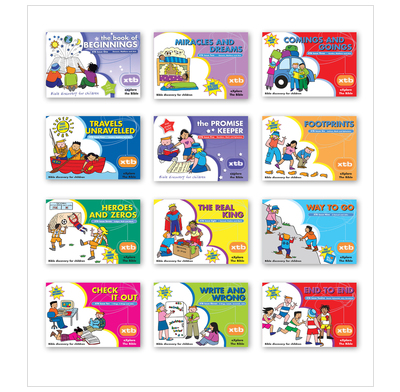 XTB: The Collection
All 12 issues of XTB
All 12 issues of eXplore The Bible for 7 - 11 year olds to understand the WHOLE Bible.
XTB (eXplore The Bible) is a series of daily Bible reading notes for children of the 7-11 age group, with puzzles, pictures and prayers.
Look out for Table Talk - a book of daily Bible times for families with children aged from 4 upwards. The Bible passages are the same each day for XTB and Table Talk - so you can use the two books together, or on their own. Whichever suits you best.
Extras
Specification
| | |
| --- | --- |
| Age range: | 7 - 11 |
| Author | Alison Mitchell |
| First published | 2014 |
| Dimensions | 210mm x 149mm x 50mm |
| Language | English |
| Publisher | The Good Book Company |
"Fantastic resource"
I have been using these books for a while now as part of our homeschool. It's so wonderful to see my kids learning to read and think about the Bible for themselves. In our family Bible time they will often say "I read about that in XTB!" I am buying now for my 3rd child after seeing the impact on my older two. I am hoping this is the start of a lifelong personal daily Bible Reading habit for them.
"Excellent!!!"
My son has been enjoying these notes - they are a fantastic resource and I am so glad a friend recommended I get them!
"Great"
Our children are 6 (boy) and 8 (girl) years old and they love doing these.

"Excellent Series"
(Review written for 'XTB 10: Check It Out')
We have used XTB with all of our children and found them helpful. We love the big picture of the Bible that comes through as a recurring them and the children have always enjoyed the activities. We strongly recommend these.

"Gets kids reading the Bible"
(Review written for 'XTB 2: Miracles & Dreams')
I love this resource. We use it in our homeschool, and I think it's so well pitched to this age group to get them reading the Bible. It gently introduces Bible study skills in a fun way. We love it!
"Reasnoble Reading Level Required"
If the child is a little younger they will still need to be acompanied. This is because there is normally between 2 and 8 verses to read from the Bible. The materials are particularly good for kids who like word games to fill out.

Theologically excellent.

"Fantastic!"
(Review written for 'XTB Subscription')
Absolutely love this! I am a children's ministry worker and this has played a huge part of the children's' spiritual growth. Through these books they have come to know and understand the Word and God so much more. I am seeing a difference in them since they started using these books. I've used them for one-to-one studies and then sent them home with children to do in the week. Easy to read, nice to look at, explains everything well and all in manageable bitesize chunks! Love it! Cannot recommend it enough!

"helpful"
(Review written for 'XTB 6: Footprints')
Excellent for reading with my 7 year old grandson for the first time.
"Great bible notes"
My 6 year old loves these. We are half way through the first book and he is enjoying them - particularly the stickers and the codes. I thought it might be too advanced for him but he is understanding them and getting alot out of it.

"Excellent resource for developing a love of the Bible"
(Review written for 'XTB 12: End to End')
We have used XTB with two of our boys now and currently using it with our eight year old. He loves the puzzles and codes and is growing in his love of the Bible and his knowledge too. This is an investment in our children and I love the foundations it is giving them.