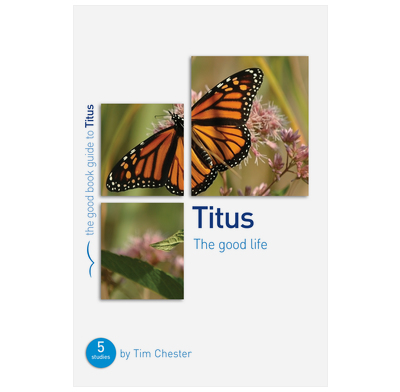 Titus: The Good Life
ebook
5 studies for individuals or groups
Five studies to help you see how the gospel changes our lives, churches, and mission.
Part of the Good Book Guides series.
Tim Chester shows how the gospel makes a real difference as he takes us to this little-read, life-changing New Testament letter.
With clarity and insight, he helps small groups to be excited about, and equipped for, letting the truth transform their lives, their churches, and their mission.
These five studies will help small groups and individuals see how to live the good life.
FAQ for using digital Good Book Guides
Can I print the PDF?
Yes, for your own personal use.
Can I share the PDF with other members of my home group?
No, each member needs to buy their own copy.
Can I share individual studies with my home group?
No, each member needs to buy their own copy.
Can I buy copies for my group members and email it round?
Yes, once you've purchased enough copies for each group member, you can download the file and email it directly to them. Please ask them not to distribute further.
Is there a discount for buying a group license?
Yes, bulk discounts are available and reflected in your basket.
Contents
Introduction
Why study Titus?
Timeline
1. The truth that leads to godliness (1 v 1-9)
2. Church in danger (1 v 10-16)
3. Living the good life (2 v 1-10)
4. What salvation teaches (2 v 11-15)
5. Kindness and renewal (3 v 1-15)
Leader's Guide
Specification
| | |
| --- | --- |
| Author | Tim Chester |
| Format | Digital Download |
| First published | June 2020 |
| Language | English |
| Publisher | The Good Book Company |
Other information
The Good Book Guides have been developed to ensure that each session not only seeks to uncover the meaning of the passage and see how it fits into the big picture of the Bible, but also leads people to apply what they have learnt to their lives. Flexible and practical, the Good Book Guides are ideal for small groups, or individual study.