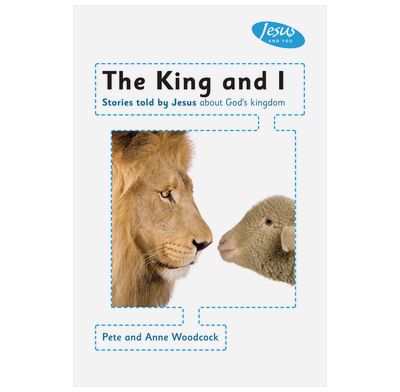 The King and I Handbook
Stories told by Jesus about God's kingdom
The third in the Jesus & You series, a four session, DVD-based course about God's kingdom.
Part of the Jesus and You series.
Jesus is famous for being humble and gentle. He was poor. He never went more than 200 miles from his birthplace. And he died like a criminal.
But amazingly he taught his followers that he is the king sent by God. Jesus told many stories to teach about God's kingdom. They tell us what kind of king Jesus is and why we need to join God's kingdom.
In just four sessions, you can hear seven of these stories of Jesus. Find out why our world is full of trouble, how the message of Jesus can completely change your life, and what's the greatest treasure in the universe!
Using a modern, easy-to-understand translation of the Bible, this straightforward guide and the accompanying DVD will help you understand who Jesus is, why he came, and the difference he can make for people today.
To help with promoting your course, we now have posters and invitations available for you to download. See the 'Extras' section on the top left-hand side of the page.
Contents
1. The four soils (Matthew 13 v 1-23)
2. The weeds and the wheat (Matthew 13 v 24-30 and 36-43)
3. Seeds, yeast, treasure and a pearl (Matthew 13 v 31-35 and 44-46)
4. The net (Matthew 13 v 47-58)
Free extras
Specification
| | |
| --- | --- |
| Author | Pete Woodcock, Anne Woodcock |
| ISBN | 9781905564354 |
| Format | Saddle stitch |
| First published | December 2012 |
| Dimensions | 152mm x 229mm x 3mm |
| Language | English |
| Pages | 48 |
| No. of studies | 4 |
| Publisher | The Good Book Company |
"Enthusiastic"
(Review written for 'The King and I (Starter Pack)')
We are using "The King and I" with International students studying art at UCA Farnham , and they are really loving the material. We have had some of the best discussions on Christian truth as we have used the material. The explanations from Pete and Lizzie are first-class, clear and punchy. And the testimonies root the truth in personal experience.
"Really helpful short course for new folk and those wanting to help them."
(Review written for 'The King and I (Starter Pack)')
Just started running my second course using the Jesus and you material and have found both the "Tales of the unexpected" and "The King and I" to be really good for the groups they are aimed at, folk with little or no previous Bible knowledge. The video's are engaging however don't expect the same high production values as the CE video but they work well with the material.

I'm so pleased that material like this is being produced and I hope that more are in the pipeline.