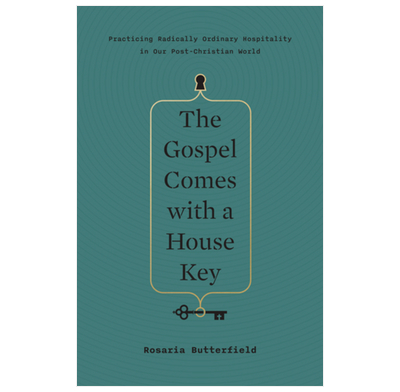 The Gospel Comes With a House Key
Practicing Radically Ordinary Hospitality in Our Post-Christian World
How radical, ordinary hospitality can be used by God to bring the gospel to our lost friends and neighbours
What did God use to draw a radical, committed unbeliever to himself? Did God take her to an evangelistic rally? Or, since she had her doctorate in literature, did he use something in print? No, God used an invitation to dinner in a modest home, from a humble couple who lived out the gospel daily, simply, and authentically.
With this story of her conversion as a backdrop, Rosaria Butterfield invites us into her home to show us how God can use this same "radical, ordinary hospitality" to bring the gospel to our lost friends and neighbours. Such hospitality sees our homes as not our own, but as God's tools for the furtherance of his kingdom as we welcome those who look, think, believe, and act differently from us into our everyday, sometimes messy lives—helping them see what true Christian faith really looks like.
Specification
| | |
| --- | --- |
| Contributors | Rosaria Butterfield |
| ISBN | 9781433557866 |
| Format | Hardback |
| First published | April 2018 |
| Dimensions | 139.7mm x 215.9mm x 20mm |
| Language | English |
| Pages | 240 |
| Publisher | Crossway |
"A fantastic book on a subject that is often overlooked or not seen as that important."
Over the years, having been a member of several different churches, I have come to see that the importance of hospitality in our churches is often overlooked. Rosaria Butterfield writes in a very warm way that encourages the reader to see that we are all called to show hospitality no matter how big our living space is. It is such a huge opportunity to get to know our neighbours and church family. I highly, recommend this book to all Christians who long for deeper relationships.