Sipping Saltwater
ebook
How to find lasting satisfaction in a world of thirst
A unique take on understanding idolatry and how it affects Christians, particularly in our contemporary culture of numerous hidden idols.
A unique angle on the problem of idolatry and how it affects Christians, particularly in our contemporary culture of numerous hidden idols.
The uniqueness of this book comes in the metaphor of sipping saltwater. Even as Christians, we 'sip' on idols such as money, relationships, careers, sex, food, human approval…the list is endless. These things promise to satisfy us—to quench our thirst. In the end, however, they fail to do so and leave us thirstier than we were before drinking them. To make matters worse, we are left with devastating hangovers—the negative consequences of our idolatry.
This book enables readers to identify their own source(s) of saltwater and explains how to quench their thirst with Jesus' living water—the only drink that will ever truly satisfy us both now and for eternity. It inspires readers to go on in the Christian life as they started—by making Jesus the centre of our lives and giving our worship to him.
Contents
1. Our nagging thirst
2. Our drink of choice
3. The saltwater cycle
4. Living water
5. Water fountains
6. Quenched
7. God - Garbage - Gift
8. Money
9. Sex
10. Control
11. Comfort
12. Busyness
13. People
14. Food
15. Works
Specification
| | |
| --- | --- |
| Author | Steve Hoppe |
| ISBN | 9781784981839 |
| Format | Electronic book text |
| First published | 2017 |
| Language | US English |
| Pages | 160 |
| Publisher | The Good Book Company |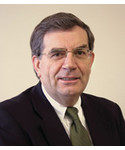 From Jesus' disciples to Martin Luther's barber and beyond, "teach us to pray" has been a frequently heard heart-cry. But the truth is we can only really learn to pray by praying. Here 5 Things to Pray for your World will help you. It takes an old idea, tested and tried throughout the ages – a prayer list – and turns it into a thought-provoking, vision-expanding, prayer-stimulating tool. It is small enough to fit into your pocket, but big enough to change your life. Simple, but brilliant.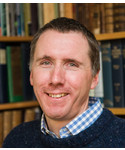 We all know we should pray for the world. But where to start? 5 Things to Pray for Your World is a great option. It will expand the horizons of your prayers as well as shaping them by God's word.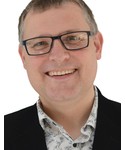 I loved Rachel's first two books and this third does not disappoint. Praying Scripture is liberating and exhilarating. Rachel's new book helps us to do that carefully, wisely and in a biblically focused way, without being constraining. The prayers I pray as a result are still very much my own. I will be using this superb resource both in my own devotions and in church life.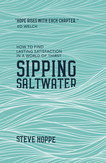 "Concise and stimulating read"
(Review written for 'Sipping Saltwater')
A wonderful critique of the human condition and the gifts that God provides. If only we could learn to appreciate what he provides. An easy read with some important messages.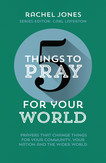 "Deepening Our Prayer Life"
(Review written for '5 Things to Pray for Your World')
I've never encountered such a positive response from a book centred on prayer. We recently ran our week of prayer and I chose this series to be the theme. I have had several people enquire about receiving copies and sharing how they see prayer in a wider and practical context. I used this particular book for our focus on Remembrance Sunday 2017 praying for our armed forces. It was received very well.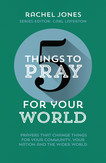 "Helpful, accessible and gets you praying!"
(Review written for '5 Things to Pray for Your World')
Praying for the needs of our world has overwhelmed me in recent years. This book helps to focus thoughts and prayers for our world, based upon scripture, and has the end result of getting me praying - what's not to love?! Accessible and helpful for all ages, I have used this with my parents, youth group and at a Church prayer meeting.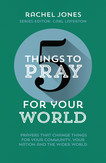 "Excellent"
(Review written for '5 Things to Pray for Your World')
An excellent resource to help us pray for a world in need.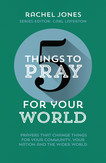 "Immensely practical in a troubling world "
(Review written for '5 Things to Pray for Your World')
If, like me, you cry when you read the news, you'll find this book extremely practical in helping you to respond in prayer to the things that happen both close to home and further afield. We've really no excuse not to be praying when there are resources like this to help us. Anyone could use this book, so if you're not used to praying it would be a great place to start. For those who are more seasoned pray-ers, it is full of Biblical ideas. We have also used these books to help us plan prayers for our church small group.