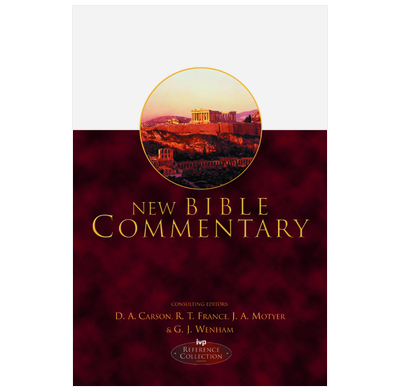 New Bible Commentary 21st Century Edition
Long recognised as an essential reference work, this book has been revised and improved for the Bible students of today.
Long recognised as an essential reference work, this book has been revised and improved for the Bible students of today.
For 50 years, the New Bible Commentary has served Bible readers worldwide. This twenty-first-century edition builds on the strengths of the previous three:
- A one-volume commentary on the whole Bible by an international team of contributors
- General articles on what the Bible is and how to read it
- An introduction to each Bible book
- Commentaries dividing each book into sections for ease of reference
Designed to meet the needs of today, the New Bible Commentary makes use of recent international scholarship: 80% of the articles are entirely new and the rest have been rewritten. New maps, diagrams, charts and tables illuminate the text and further reading lists are included with each article.
Contents
Maps, diagrams and tables
Preface
Explanations
Contributors
Abbreviations
Transliterations


Approaching the Bible
Biblical History
The Old Testament
The Pentateuch
Genesis
Exodus
Leviticus
Numbers
Deuteronomy
Joshua
Judges
Ruth
1 and 2 Samuel
1 and 2 Kings
1 and 2 Chronicles
Ezra and Nehemiah
Esther
Poetry in the Bible
Job
The Psalms
Proverbs
Ecclesiastes
The Song of Songs
Isiah
Jeremiah
Lamentations
Ezekiel
Daniel
Hosea
Joel
Amos
Obadiah
Jonah
Micah
Nahum
Habakkuk
Zphaniah
Haggai
Apocrypha and apocalyptic
New Testament
Reading the gospels
Matthew
Mark
Luke
John
Acts
Reading the letters
Romans
1 Corinthians
2 Corinthians
Galatians
Ephesians
Philippians
Colossians
1 Thessalonians
2 Thessalonians
The pastrol letters
Philemon
Hebrews
James
1 Peter
2 Peter
1 John
2 and 3 John
Jude
Revelation
Specification
| | |
| --- | --- |
| ISBN | 9780851106489 |
| Format | Hardback |
| First published | January 2004 |
| Dimensions | 175mm x 258mm x 55mm |
| Print size | 9pt |
| Language | English |
| Pages | 1456 |
| Publisher | IVP |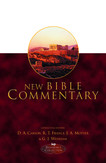 John Stott
I doubt if there is any better value for money today than the New Bible Dictionary and the New Bible Commentary. As basic books for every thinking Christian's library they are indispensable.
"Bible study clarity"
This commentary is large, comprehensive and well written. It is definitely not one to be carried around but sat on the desk with a Bible and notebook it is a wonderful accompaniment to in-depth study. Would totally recommend!
"Excellent resource for rapid comment on any Bible passage."
This thorough and well written reference text has already been very useful for my Biible study and devotion, with thought-provoking and intelligent comment from renowned scholars. A must have resource for any Christian's bookshelf!