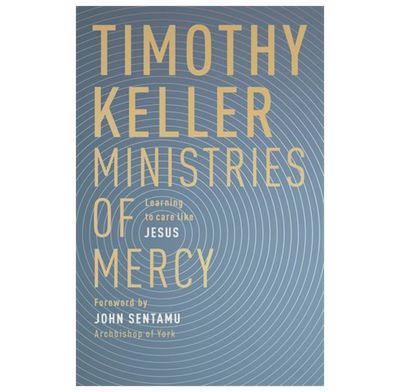 Ministries of Mercy
Learning to care like Jesus
Bestselling Christian author Timothy Keller shows how to become more compassionate, more committed and more effective 'Good Samaritans' to those in need today
In this motivational and highly practical book, Timothy Keller shows how caring for those in need is the duty of every believer – as fundamental to Christian living as evangelism, discipleship and worship.
But he doesn't stop there.
He sets out an array of tried-and-tested measures that will encourage and equip Christians of all persuasions to become more committed and more effective in carrying out this vital ministry.
Contents
PART 1: PRINCIPLES
1. The Call to Mercy
2. The Character of Mercy
3. The Motivation for Mercy
4. Giving and Keeping: A Balanced Lifestyle
5. Church and World: A Balanced Focus
6. Conditional and Unconditional: A Balanced Judgment
7. Word and Deed: A Balanced Testimony
PART 2: PRACTICE
8. Getting Started
9. Preparing the Church
10. Mobilizing the Church
11. Expanding Your Vision
12. Managing Your Ministry
13. Mercy Ministry and Church Growth
14. Meeting Needs
Specification
| | |
| --- | --- |
| Contributors | Dr Timothy Keller |
| ISBN | 9780281078332 |
| Format | Paperback |
| First published | August 2017 |
| Dimensions | 129mm x 198mm x 198mm |
| Language | English |
| Pages | 304 |
| Publisher | SPCK Publishing |
John Sentamu
Archbishop of York
I commend this book to all who would heed Jesus' call to be ministers of mercy: to walk with him along the paths of justice, mercy and truth.
Joel Edwards
General Director of the Evangelical Alliance, 1997-2009
Tim Keller's ministry had been a neon signpost for Christian's looking for biblical reasons for social engagement. Ministries of Mercy explores the story of the Good Samaritan as a compelling basis for acts of mercy.
Eleanor Mumford
Founder of Vineyard Churches, UK and Ireland
Tim Keller has approached a challenging subject with typical biblical integrity.