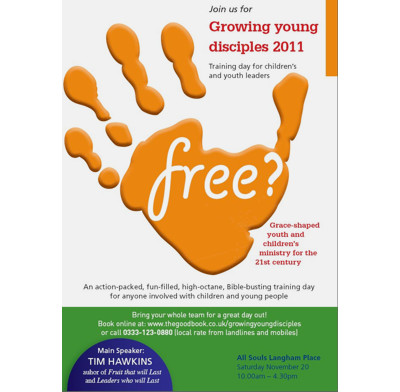 Growing Young Disciples Conference 2010
Talks and Seminars
Grace-shaped youth and children's ministry for the 21st century.
All the talks and seminars from the action-packed, fun-filled, high-octane, Bible-busting training day for those involved with children and young people held at All Souls Church in November 2010.
Whether you've been working with children or young people for 4 weeks or 40 years, the talks from this training day will encourage, inform, enthuse and equip you for your vital role of bringing the gospel of God's grace to the next generation.
An engaging mix of main sessions to sharpen your thinking on exactly what the message of grace is, and practical 'how to' sessions to scratch where you're itching. All designed to help your ministry be effective, long lasting and pleasing to God our Father.
(Please note that the seminar recordings have not been edited, so there may be some pauses during group discussion)
Contents
Opening Session: The transforming gospel of grace (Tim Hawkins)
Closing Session: Grace to keep you going (Tim Hawkins)

Addressing the heart in all of our teaching (Ian Fry)
Discipline (while also modeling grace) with under 11s (Rory Bell)
10 Great ideas for youth group socials (Dave Thornton)
Teaching and modeling grace to teens (Mel Lacy)
Wordliness: modesty, clothes and shopping (Rachael Holyome and Matt Hutchings)
How to partner with parents (Tamar Pollard and Dave Fielder)
Modelling grace in every part of a teaching session (under 11s) (Tim Thornborough and Alison Mitchell)
Discipline (while also modeling grace) with 11-18s (Trevor Pearce)
Facebook: blessing or curse? (Jason Ramasami)
Understanding and teaching the 10 commandments in the light of grace with under 11s (Ed Drew)
Self-Harm (Helen Thorne)
'Just a helper?' Making a difference whatever your role (Alison Mitchell)

Free extras
Specification
| | |
| --- | --- |
| Contributors | Tim Hawkins |
| Format | Digital Download |
| First published | September 2010 |
| Language | English |
| Publisher | The Good Book Company |