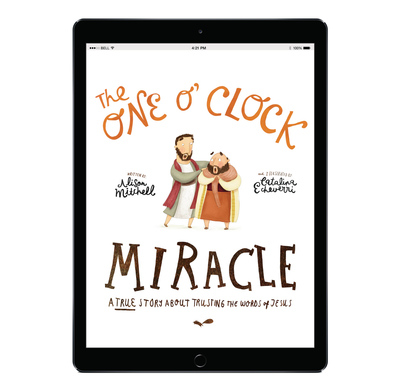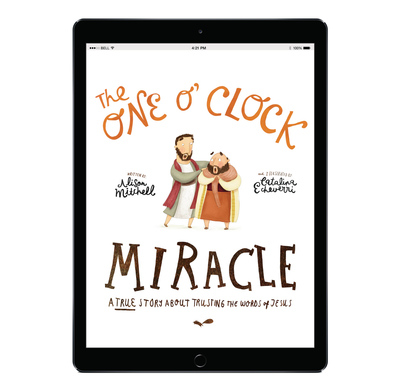 Download the full size illustrations - The One O'Clock Miracle
Get the full colour, full size illustrations to use in presentations
These full colour, full size illustrations allow you to read The One O'Clock Miracle while showing the pictures on screen.
Part of the Tales that Tell the Truth series.
Together with The One O'Clock Miracle storybook, these full colour, full size illustrations allow you to read the story while showing the pictures on screen.
Perfect for use in groups with children aged 3-6 years old. Simply add to basket and the link to download will appear in your confirmation email upon purchase.
You will need to purchase the storybook separately in order to read the story.
The One O'Clock Miracle is based on the healing of the official's son in John chapter 4. This wonderful storybook will teach children about the instant power of the words of Jesus, and that they should trust Jesus because he is God's Son.
Specification
| | |
| --- | --- |
| Author | Alison Mitchell, Catalina Echeverri |
| Format | Digital files |
| First published | May 2016 |
| Print size | 0.00000000pt |
| Language | English |
| Publisher | The Good Book Company |

Dai Hankey
author of the Eric says… series, The Hard Corps, and A man's greatest challenge
Wonderfully narrated and beautifully illustrated, The One O'clock Miracle is a compelling retelling of a famous Bible story of faith, grace and big, powerful words.

Bob Hartman
Storyteller and author of The Lion Storyteller Bible
I have this theory that people are more open to truth when they are smiling than when they are frowning. And Catalina Echeverri's illustrations for Tales that Tell the Truth just make me smile! They are bright and winsome and shot through with humour. Combined with texts that faithfully retell both individual Bible stories and God's Big Story, they make for a winning series of picture books.

Ann Benton
author and speaker
A man with a burden makes a journey to Jesus and finds that Jesus' word is enough: that's the story. In this version, the excitement and urgency of the narrative is enhanced by visual graphic emphasis. Add to that enchanting illustrations, littered with unexpected, even quirky, detail and you have a book to delight the adult reader and child listener.
The One O'Clock Miracle
Claire, April 28th 2015
One of the perks of writing a blog, is that occasionally you land a little opportunity to review an absolute gem of a book.
This was one of those times.
Of all the books we've ever reviewed, I think this is one of my favourites.... continue reading
"It bought a smile to my face and joy to my heart."
Jon Gemmell, The Proclamation Trust, July 18th 2017
The book is simple, beautifully illustrated and very engaging, all the ingredients you want in a children's book.... continue reading
"One of our all time favourites"
(Review written for 'Download the full size images - The One O'Clock Miracle')
We collect the books in this series and this is one of our all time favourites! Even our 12 and 10 year old sit to join our 7 and 3 year old, listening to me read aloud. We bought the full size images too, so we could share our screen during a conference call and tell the story to our godchildren. We see this set of books as a tremendous investment in our children's understanding of who Jesus is what he came to do... and we won't stop collecting till they stop being written, no matter how big the children get!
"What a breath of fresh air! I am SO thankful to have discovered these books!!"
(Review written for 'The One O'Clock Miracle')
I stumbled across The Friend Who Forgives at my local bookstore yesterday & was absolutely THRILLED to discover it! I bought it, went home & looked up the illustrator, & after looking through them online, ordered 5 more of her books, including this one. I have been telling my friends & family about them & bought some as gifts as well. Why? Because I have never seen kids books that so clearly, creatively, & Biblically tell bible stories, while also accurately teaching the message of the story! (& I've seen lots!) The oldest of my 4 kids turned 4 this week & I am super thankful to have found these books in time to read over & over to my kids as they grow! THANK YOU!!!