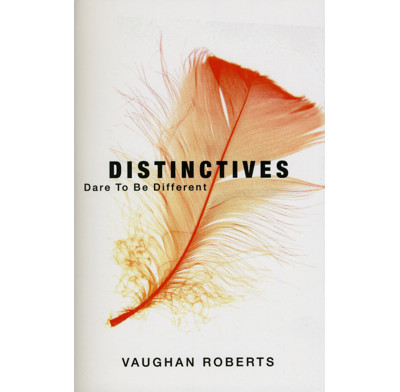 Distinctives
Daring to be different in an indifferent world
Vaughan Roberts, issues a challenging call to Christians to live out their faith.
In a fresh and readable style, the author of Turning Points, Vaughan Roberts, issues a challenging call to Christians to live out their faith. We should be different from the world around us - Christians distinctives should set us apart in how we live, think, act and speak.
Targeting difficult but crucial areas such as money and possessions, sexuality, contentment, relativism and service, this is holiness in the tradition of J C Ryle for the contemporary generation. Roberts helps us to consider how to respond biblically to the temptations and pitfalls surrounding us - giving what we cannot keep to gain what we cannot lose.
Will you take up the challenge?
Will you dare to be different?
Contents
Acknowledements

Introduction

1. Perspective in a world that lives for the moment

2. Service in a world that looks after number one

3. Contentment in a world that never has enough

4. Purity in a world obsessed with sex

5. Certainty in a world in which everything is relative

6. Holiness in a world where anything goes

7. Wholeheartedness in a world that can't be bothered

Specification
| | |
| --- | --- |
| Age range: | |
| Contributors | Vaughan Roberts |
| ISBN | 9781850783312 |
| Format | Paperback |
| First published | February 2004 |
| Dimensions | 110mm x 176mm x 13mm |
| Print size | 10.0pt |
| Language | English |
| Pages | 157 |
| Publisher | Authentic Media |
Other information
Vaughan Roberts is Rector of St Ebbe's Church, Oxford. He is a popular conference and University Christian Union speaker and a member of the executive committee of 9:38 - an inter-denominational group which encourages people to consider full-time gospel ministry.