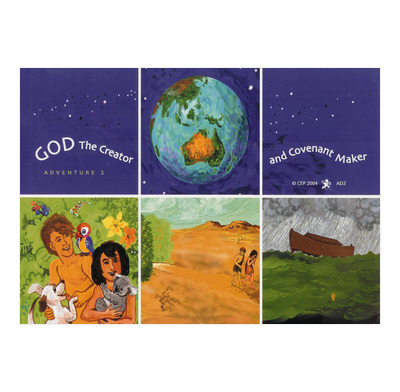 Click Unit 2: 5-7s Child's Component
Easy-to-use, Bible-centered teaching material for 5-7s
This child's component is an A2 size card with an extra 6 pictures.
Unit 2 for 8-11s looks at the subject of 'God the Creator and Covenant Maker - from Genesis'.
This child's component is an A2 size card with an extra 6 pictures, that shows all ten events that the children will be learning about from Genesis. Each week the children add extra detail to their storyboard, to reinforce that week's teaching.
This child's component accompanies the Click Unit 2: 5-7s Leaders Manual. There is also a Leader's Pack available.
CLICK is a Bible-based programme for teaching and discipling children from 3-11 years. The CLICK curriculum is based on the belief that the Bible's own theological framework should direct what is taught and how it is taught. CLICK is Bible-based, teaching the major events, concepts and doctrines of the Bible. It's also great fun!
Contents
God the Creator and Covenant Maker - from Genesis
1. God creates the world (Genesis 1)
2. God creates people (Genesis 2; Psalm 8)
3. Sin spoils creation (Genesis 3:1 - 4:15)
4. God rescues Noah and his family (Genesis 6-9)
5. God makes promises to Abram (Genesis 12:1-9; 15)
6. Abram and Lot (Genesis 13:1-14:16; 17:1-16)
7. The birth of Isaac (Genesis 18:1-15; 21:1-8)
8. Isaac and Rebekah (Genesis 24; 25:19-26)
9. Jacob's family (Genesis 37; 39)
10. God rescues Jacob's family (Genesis 40-50)
Specification
| | |
| --- | --- |
| Age range: | 5 - 7 |
| Contributors | Alison Mitchell |
| Format | Poster |
| First published | January 2006 |
| Dimensions | 210mm x 300mm x 1mm |
| Language | English |
| Pages | 2 |
| Publisher | The Good Book Company |
"Excellent Material"
(Review written for 'Click Unit 2: 5-7s Leader's PACK (Manual + Posters + Child's Component)')
Very impressed with the material we have used so far. Good sound teaching and each lesson follows closely with the one before making it easier to refer back since we operate on a rota system in our Junior Church. The children have loved the colourful,visual aspect of their handouts and the visual aids supplied with the material. The ages range covered do not exactly cover the age groups we operate but it has not been a difficult task to adapt occasionally.
"Great resource "
(Review written for 'Click Unit 2: 5-7s Leader's PACK (Manual + Posters + Child's Component)')
I think it's easy to follow, suggests great ways to talk to the children and talk to them about the story and Jesus in a real way related to everyday,
.love it that rsources are already done! Thanks
"better to covered a wider age range"
(Review written for 'Click Unit 2: 5-7s Leader's PACK (Manual + Posters + Child's Component)')
I've not had the chance to use this yet. First impressions are that it is a helpfully biblical, but perhaps a bit over-prescriptive, with too many questions and not quite enough space for the leader to find their own way through the passage or flexibility to suit groups with different ability or knowledge levels. Secondly it isn't so helpful in our context where we have very few children and a wide age range. We cannot afford to buy a book for each age range so it would be more helpful to us to have suggestions for 3-11 year olds in the same book. I may not get the chance to use this material after all, but I'm sure we will dip into it.
"Great ideas and storytelling"
We liked this unit's (2) children's component. The storytelling is great because it also involves verses from scripture. Packed full of excellent craft ideas. Going through the units second time around and enjoying them as much as the first time. Thanks for lovely resources.
"Great resources"
Lots of great ideas to pick from. Although it doesn't quite match up with how we run our morning and the books for the different ages don't always cover the same stories throughout the series, the variety and quality of the resources inspire our helpers.
"Great stuff - good visuals"
This is in use with our volunteer team here (small rural Anglican parish) and happily puchased once Unit 1 had been successfully used. Once everyone had realised there was too much to do in one session, Click has been a great resource - plenty of ideas and 'pathways' according to your group. It handles the bible confidently, and there are many attractive ways for the children to engage with the bible - e.g. The poster is neat; BIG and shiny, and another surprise for us. The moral is read the book way before the session, and decide what to do and what not.
"An excellent tool for teaching doctrine to children."
We are a small congregation in an independent church in a village. Our Sunday School is small & for some time has been using long established teaching materials. When first we introduced Click, the leaders & children had a little difficulty adjusting to the Biblical theological approach. Four months on, however, leaders & children alike have adapted, so much so that the children stay focused throughout the session & leaders are finding the material helpful for their own understanding of Scripture.
"Good group of lessons"
Some of the tasks were a bit too difficult for the 5/6's. Cutting felt can be troublesome. The pictures on the storyboard were so colourful, hated to cover some of them up.
"Same high quality expected from Click"
A good module looking at Genesis in some detail. Strong on bible teaching and the summary leader's notes are helpful for getting into the passage. Click is easy to use once you're used to the format, and works well for us passing the book between leaders. Variety of activities means leaders can pick ones that tailor to their group/space. I felt the child's component (A3 card with pictures - box for each session, meant to be added to each week) was weak for this module. We bought, but haven't used them.
"Such a helpful, accessible resource."
Very thorough-well structured and set out. Brilliant craft ideas and photocopiable resources.