Dealing with Disappointment
How to know joy when life doesn't feel great
John Hindley shows how real joy can co-exist with real disappointment in this warm, realistic and above all hope-filled book.
Life is disappointing. And disappointment can so easily come to dominate our life—the nagging thought in the back of our minds and the constant 'but' colouring all our pleasures.
In this realistic, hope-filled book, John Hindley shows how to deal with disappointment — what disappointment is, what it does, and how to learn to live with the disappointments while also knowing joy.
If your life isn't perfect… you need this book!
Contents
1. You're disappointed
2. We should be disappointed
3. We're too disappointed
4. A hope that destroys despair
5. A purpose that replaces escape
6. A perspective that shrinks sadness
7. Disappointed with how things are
8. Disappointed with my success
9. Disappointed with my ministry
10. Disappointed with myself
11. Disappointed with my God
12. Fighting for joy
13. You won't be disappointed
Specification
| | |
| --- | --- |
| Author | John Hindley |
| ISBN | 9781784981204 |
| Format | Paperback |
| First published | 2017 |
| Dimensions | 129mm x 198mm |
| Language | English |
| Pages | 160 |
| Publisher | The Good Book Company |
Allows us to be honest about our disappointments, and then invites us to view them with a great purpose, a new perspective, and an unshakeable hope. A wonderful combination of biblical insight and down to earth wisdom.
I am so grateful for this book. It was just what I needed to hear. It left me rejoicing afresh at the gospel which is able to totally transform how we view our circumstances, and to enable us to live lives with a real sense of purpose and contentment.
This book can and should be life-transforming.
Really helpful
Catherine Brooks, January 2nd 2017
This book, as the title suggests, helps us deal with that disappointment in an appropriate way so that we can use it to focus all the more on Christ's return. … I found all of it really helpful: it really is a breath of fresh air.... continue reading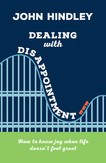 Simple, direct and kind
Ruth Eardley, Evangelicals Now, April 1st 2017
Readers will appreciate the author's generosity of spirit, friendly style and enthusiasm. I especially liked his insights as to when disappointment is right and proper and the stirring appeal to transform our home-groups (read it and see!)... continue reading