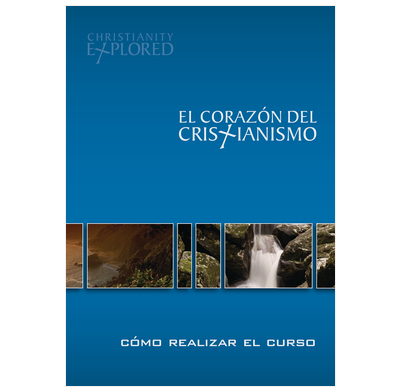 CE - How to run the Course (Spanish)
CE - How to run the course - Spanish Edition
Contiene consejos prácticos sobre la promoción, la preparación y la realización del curso. Contains practical advice on promoting, preparing and running the course.
Part of the Christianity Explored series.
Cómo Realizar el Curso proporciona consejos prácticos sobre cómo promover, preparar y realizar el curso. Incluye propuestas para elaborar invitaciones, formularios de comentarios y apoyos visuales. Contiene transcripciones de las charlas originales hechas por Rico Tice.
Debe ser utilizado junto con los siguientes libros: Guía de Estudio: Edición del instructor y Guía de Estudio.
This book, How to Run the Course, provides practical advice for the leader of the program on promoting, preparing for and running the course. It includes sample invitations, feedback forms, visual aids and transcripts of all 14 Christianity Explored talks which can be used for each session if desired.
How to Run the Course should be used in conjunction with the following books: Study Guide and Study Guide - Leader's Edition
Contents
Sección 1: Ejecución del Curso / How to Run the Course
Capítulo 1: Introducción / 1: Introduction
Capítulo 2: Uso de los recursos / 2: Using the Resources
Capítulo 3: Organización del Curso / 3: Setting up the course
Capítulo 4: Selección y preparación de los instructores / 4: Choosing and Training Leaders
Capítulo 5: Cómo invitar a los participantes / 5: Inviting Participants
Capítulo 6: Organización de un retiro / 6: Organizing the Weekend or Day Away
Capítulo 7: Comentarios / 7: Getting Feedback
Las Charlas / The Talks
Semana 1: Introducción / Week 1: Introduction
Semana 2: Jesús: ¿quién era? / Week 2: Jesus – who was he?
Semana 3: Jesús: ¿por qué vino? / Week 3: Jesús – why did he come?
Semana 4: Jesús: su muerte / Week 4: Jesús: His Death
Semana 5: ¿Qué es la gracia? / Week 5: What is Grace?
Semana 6: Jesús: su resurrección / Week 6: Jesús – His Resurrection
Examinemos la vida cristiana / Exploring Christian Life
La iglesia / The Church
El Espíritu Santo / The Holy Spirit
La oración / Prayer
La Biblia / The Bible
Semana 7: ¿Qué es ser cristiano? / Week 7: What is a Christian?
Semana 8: La vida como cristiano / Week 8: Continuing as a Christan
Semana 9: Decisiones: Herodes / Week 9: Choices – King Herod
Semana 10: Decisiones: Jacobo, Juan y Bartimeo / Week 10: Choices – James, John and Bartimaeus
Specification
| | |
| --- | --- |
| Contributors | Rico Tice, Sam Shammas |
| ISBN | 9781906334604 |
| Format | Paperback |
| First published | April 2009 |
| Dimensions | 148mm x 211mm x 9mm |
| Language | Spanish |
| Pages | 153 |
| Publisher | The Good Book Company/CE |
Also available in