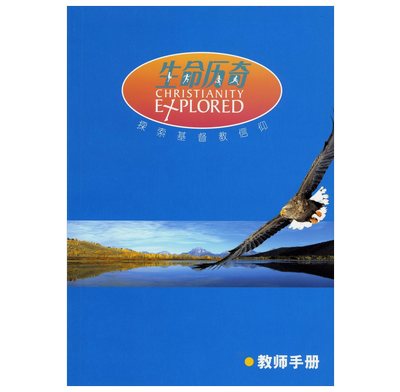 CE - How to run the Course (Simplified Chinese)
Simplified Chinese edition of the Christianity Explored How-to-Run-the-Course guide.
Part of the Christianity Explored series.
Simplified Chinese Edition
Christianity Explored is a ten-week course that introduces people to Jesus Christ. Week by week, as course participants explore Mark's Gospel, they address three questions that cut to the heart of Christianity: Who is Jesus? Why did he come? What does it mean to follow him?
How to run the course
Provides practical advice on promoting, preparing for and running the course
The Christianity Explored Course has been developed over ten years by Rico Tice, Associate Minister for Evangelism at All Souls Church, Langham Place in London. This Second Edition, written with Barry Cooper and Sam Shammas, has been thoroughly revised and updated.
Contents
HOW TO RUN THE COURSE

Introduction
Using the Resources
Setting up the course
Choosing and Training Leaders
Inviting Participants
Organising the Weekend or Day Away
Getting Feedback

THE TALKS
WEEK 1: Introduction
WEEK 2: Jesus - Who Was He?
WEEK 3: Jesus - Why Did He Come?
WEEK 4: Jesus - His Death
WEEK 5: What Is Grace?
WEEK 6: Jesus - His Resurrection
EXPLORING THE CHRISTIAN LIFE

The Church
The Holy Spirit
Prayer
The Bible

WEEK 7: What Is A Christian?
WEEK 8: Continuing as a Christian
WEEK 9: Choices - King Herod
WEEK 10: Choices - James, John & Bartimaeus
Specification
| | |
| --- | --- |
| Contributors | Christianity Explored |
| ISBN | 9789622449206 |
| Format | Paperback |
| First published | September 2011 |
| Dimensions | 148mm x 209mm x 11mm |
| Language | Simplified Chinese |
| Pages | 170 |
| Publisher | China Alliance Press |
"Excellent, Biblical resource"
It is wonderful to have a course with an indepth presentation of the content and the response needed to the gospel in the Chinese language. Having this material has enabled Chinese believers in our group to feel confident to lead the course, and therefore enabled seekers to hear the gospel in their native language. Three turned to the Lord in the course we have just finished!
The course is fairly directly translated from the English version, which allowed you to follow along with the English guide if your Chinese isn't great, but some of the illustrations are deeply based on a UK setting so we needed to give some time to thinking through how to make these more accessible to our group. But overall, an excellent resource.