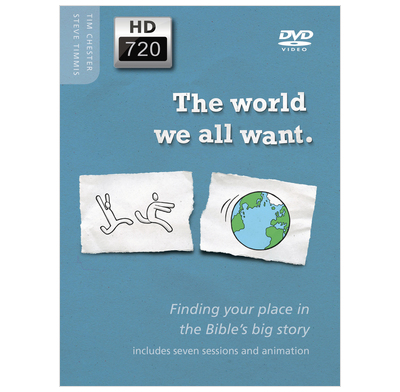 The World We All Want Episodes (HD)
Finding your place in the Bible's big story
Seven DVD presentations to introduce and complement The World We All Want evangelistic course
"A biblically-faithful, gospel-rich, culturally-sensitive presentation of the good news."
J.D. Greear
Author of Gospel: Recovering the Power that Made Christianity Revolutionary
We all dream of a better world—a world of security, plenty and friendship. Christians believe that God promises just such a new world. And the Bible is the story of what God had done and what he will do to keep that promise.
The World We All Want is for people who are interested in discovering the message of the Bible. It is an introduction to the whole Bible story—the story Christians believe to be the story of our world and its future. And as you start to see how wonderful God's story is, you'll also start to see how his story can become yours as well.
The seven presentations on this DVD by course authors Tim Chester and Steve Timmis can be used as introductions or summaries when running the course in a small or large group. It also includes an animation of the entire Bible story that is followed in the course.
A leader's guide is also available in ebook format.
What makes The World We All Want unique:
- The Bible story: The World We All Want presents the gospel through the Bible story. It presents the biblical worldview that people need if they are to understand the work of Christ. Moreover, retelling the Bible story offers an engaging way of presenting the gospel to people today.
- A community: Often presentations of the gospel are individualistic, focusing on an individual's relationship with God. It then becomes difficult to teach people about the church except in functional terms or terms than contradict the message of grace. The focus of the Bible, however, is on God's plan to create a people who are his people. The World We All Want focuses on the communal nature of gospel in a way that naturally integrates the church into the message of the gospel.
- A point of connection: The course begins by engaging with people's desire for a better world, showing how God promises such a world in the Bible and how Jesus gave us a glimpse of that world. This provides a natural point of contact with people; a common aspiration. It establishes at the beginning of the course a reason why the Bible story is so important. As the course develops, however, it makes it clear that this world cannot be human-centred, it must be God-centred.
The World We All Want has been designed so that it be used one-to-one, in small groups or 'Alpha-style'. It is ideal to use before or after other courses like Christianity Explored and Alpha. The course is already being used with people of different nationalities, different social classes and different ages from Aberdeen in Scotland to Tasmania in Australia.
Contents
Animation: The World we all want [5:50]
Talk One: God promises the world we all want [8:05]
Talk Two: Jesus shows us God's new world [8:03]
Talk Three: We have spoiled God's good world [8:33]
Talk Four: God promises a new world [10:08]
Talk Five: We cannot create God's new world [7:46]
Talk Six: We can enjoy God's new world because of Jesus [10:21]
Talk Seven: Christians are God's people waiting for God's new world [8:12]
Specification
| | |
| --- | --- |
| Author | Steve Timmis, Tim Chester |
| Format | Digital Download |
| First published | March 2014 |
| Language | English |
| No. of studies | 7 |
| Publisher | The Good Book Company |
Other information
• Also available as DVD

"Good and thought provoking"
(Review written for 'The World We All Want DVD')
We have used this course on a group of retired people and it seemed to hit the level at where the people are. The course has been the means for a great deal of discussion over coffee.