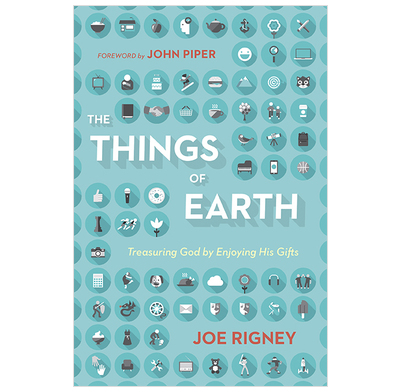 The Things of Earth
Treasuring God by enjoying his gifts
Helping readers walk the line between idolatry and ingratitude, this book emphasizes our responsibility to glorify God by joyfully embracing his good gifts without letting them become worldly distractions that steal our affection.
Watch an interview with the author
God's world is full of good things. Ice-cold lemonade. The laughter of children. College football. Scrambled eggs and crispy bacon. A late night with old friends around a blazing campfire. God certainly knows how to give good gifts to his children. But where is the line when it comes to enjoying all the pleasurable things our world affords? In The Things of Earth, professor Joe Rigney offers perplexed Christians a breath of fresh air by lifting the burden of false standards and impossible expectations related to the Christian life - freeing readers to gratefully embrace every good thing we receive from the hand of God. Helping us avoid our tendency to forget the Giver on the one hand and neglect his gifts on the other, this much-needed book reminds us that God's blessings should drive us to worship and that a passion for God's glory can be as wide as the world itself.
Contents
The Glory of the Triune God
The Author and His Story
Creation as Communication
Created to Be a Creature
The Gospel Solution to Idolatry
Rhythms of Godwardness
Naming the World
Desiring Not-God
Sacrifice, Self-Denial, and Generosity
When Wartime Goes Wrong
Suffering, Death, and the Loss of Good Gifts
Embrace Your Creatureliness
Specification
| | |
| --- | --- |
| Author | Joe Rigney |
| ISBN | 9781433544736 |
| Format | Paperback |
| First published | February 2015 |
| Dimensions | 157mm x 228mm x 17mm |
| Language | English |
| Pages | 256 |
| Publisher | Crossway |
"Awsome book on enjoying things and God at the same time"
Very accurate and helpful insight to theology and its relation to created things. For someone who thinks created things have no value and place in God's sight, this is a helpful book. I personally enjoye easy-to-understand theology which is at the same time faithful to the Bible. Awesome. I recommend to all hose who struggle with enjoying life and fear of falling into idolatry with stuff.