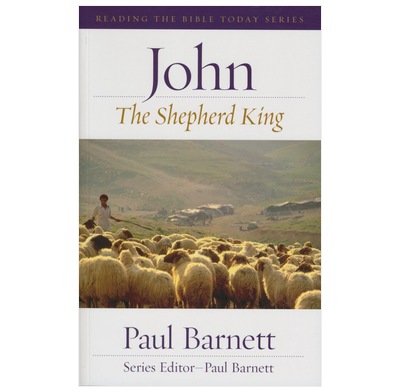 The Shepherd King: Reading John Today
Dr Barnett invites us to read the story sensitively and prayerfully to hear the voice of God speaking through the text.
John's Gospel gives more details about people, times and places than the other three gospels combined. His purpose was to assure readers that he was an eyewitness and that they could have confidence that Jesus was the Christ.
Under Paul Barnett's guidance 21st Century readers will appreciate the geographical, historical and cultural details that authenticate John's gospel. Like the writer of the gospel, Paul Barnett invites us to read the story sensitively and prayerfully to hear the voice of God speaking through the text. With John he urges readers to see that Jesus is the Messiah and follow him.
Part of The Good Book Company's Commentary List, this commentary has been selected because it not only deals faithfully and carefully with God's Word but is readable, practical and accessible as well.
Contents
1. The Word, John and the disciples (1:1-51)
2. New wine, new temple (2:1-22)
3. New birth (2:23-3:36)
4. The woman of Samaria (4:1-54)
5. Bethzatha (5:1-47)
6. Bread of life (6:1-71)
7. Jesus and the feast of Tabernacles (7:1-52)
8. The light of the world (8:12-59)
9. Blind man (9:1-41)
10. Jesus, Good Shepherd (10:1-42)
11. Life for Lazarus, death for Jesus (11:1-57)
12. Last chance for Jerusalem (12:1-50)
13. The last meal (13:1-38)
14. Because Jesus goes to the Father (14:1-31)
15. True vine in harsh landscape (15.1-16:4a)
16. Riddles and plain speaking (16:4b-33)
17. Final prayer (17:1-26)
18. Judas, Peter and Jesus on trial (18:1-27)
19. The Roman governor and the King of the Jews (18:28-19:16)
20. Lamb of God, King of the Jews (19:17-37)
21. At the tomb: Mary of Magdala (19:38-20:18)
Appendix: Mary Magdalene
22. Jesus, Risen Lord (20:19-31)
23. Epilogue: Futures of Peter and John (21:1-25)
24. The adulteress (8:1-11)
25. The origin and authorship of the Gospel of John
Specification
| | |
| --- | --- |
| Author | Paul Barnett |
| ISBN | 9781920935764 |
| Format | Paperback |
| First published | November 2006 |
| Dimensions | 138mm x 215mm x 19mm |
| Language | English |
| Pages | 344 |
| Publisher | Aquila Press |
"excellent suitable materisl for the lay person and bible teacher "
Paul Barnett manages to give a clear analysis of the text with a lightness of touch. This is a very helpful non-technical commentary. However, that does not mean that Barnett's comments lack depth. It is that he only feels the need to explain Greek vocabulary where it is necessary. AS a result this is a appropriate commentary to support the Bible teacher, small group studies as well as for personal devotion. Barnett's considerable insights into the historical background to the gospels add weight to his writing.