The Message of Ephesians
John Stott expounds Paul's theme of uniting all things in Christ.
A new and better society had been the constant dream of men and women. Responding to this dream, John Stott has been attracted back again and again by Paul's letter to the young church at Ephesus. It portrays a new society of Christ's making that stands out in bright relief against our colourless world of oppression, heartache, separation and division. Paul's letter, with it's exultant vision of a renewed human community, has, says John Stott, 'stirred me deeply'.
John Stott expounds Paul's theme of uniting all things in Christ by uniting his church and breaking down all that separates us from God, one ethnic group from another, husband from wife, parent from child, master from slave. Paul's insights are for all who want to build the church into the new society God has planned it to be.
Specification
| | |
| --- | --- |
| Author | John Stott |
| ISBN | 9780851109633 |
| Format | Paperback |
| First published | 2007 |
| Dimensions | 136mm x 215mm x 25mm |
| Language | English |
| Pages | 312 |
| Publisher | IVP |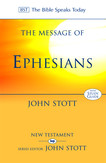 "Excellent commentary"
Ephesians while only 6 chapters long is no easy book. The unique references to the "heavenly places" and the metaphoric description of putting on the whole armour of God can be tricky to understand in Biblical and contemporary contexts. Mr Stott shares his wealth of insight and research in this book, it was invaluable as a resource in my study of the Ephesians module of the Moore College certificate in theology.