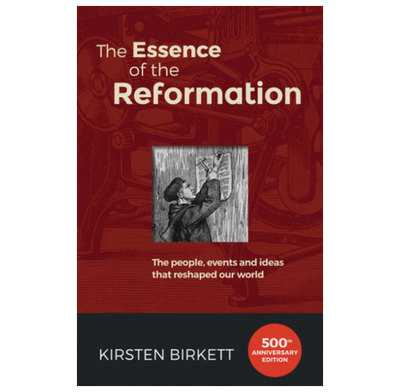 The Essence of the Reformation
The people, events and ideas that reshaped our world
Great introduction to the turbulent period of history known as the Reformation.
Corruption in the church. Political turmoil and intrigue. A clash of new ideas and ancient pagan religions. Courageous and extraordinary individuals. Doctrinal disputes that were matters of life and death.
These things and more make up what is often called the 'Reformation', that tumultuous period of European history ranging from around 1517 to the turn of the century. Unfortunately, the events, the people and ideas are generally not well known today, even though in many ways, the Reformation made our world what it is. It provided the thinking and beliefs that shaped intellectual and religious endeavour for centuries to come, down to the present day.
In this short book, Kirsten Birkett brings to us the essence of the Reformation - the social and religious soil in which it grew, the events and people which shaped it, the ideas and doctrines for which many of them died.
Contents
Preface
Part 1. What was religion like in medieval Europe?
1. Pagan beliefs and medieval religion
2. Sacraments and priests
3. Saints and miracles
4. Why the change?
Part 2. What happened where?
1. Germany
2. Switzerland
3. France
4. Scotland
5. England
Part 3. A new world
1. Did doctrine matter?
2. The doctrinal issues
3. A changing world
Part 4. Classics of the Reformation
Luther on Freedom
Calvin on Prayer
Cranmer on Salvation
Specification
| | |
| --- | --- |
| Author | Kirsten Birkett |
| ISBN | 9781922206145 |
| Format | Paperback |
| First published | January 2004 |
| Dimensions | 128mm x 198mm x 5mm |
| Language | English |
| Publisher | Matthias Media |
Other information
The Modern Beliefs series is part of the work of the Matthias Centre for the Study of Modern Beliefs. The series aims to present a short summary and analysis of the beliefs and ideologies of our modern world from a Christian point of view.
Kirsten Birkett, who has studied the Reformation and its effects on the science for her PhD, is the director of the Matthias Centre for the Study of Modern Beliefs and is editor of the quarterly journal Kategoria. She is a cat-lover, a voracious reader and is currently living in the UK.
"Concise and readable summary of what the Reformation is and why it matters "
I bought this book to help prepare for a series of studying the five Solas of the Reformation. It is an excellent overview of the historic background, the various personalities that shaped the Reformation and its key ideas. Very easy to read!