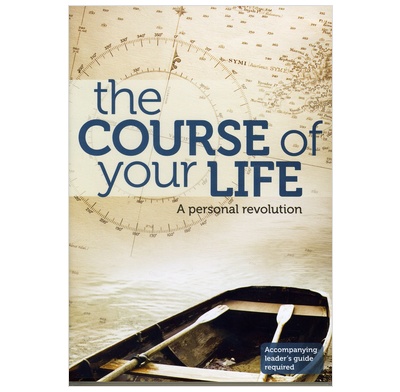 The Course of your Life DVD
A personal revolution
Inspire people to be disciple-making disciples in every area of their lives
"This is probably the most important thing I have ever written."
Tony Payne
Author
How do you get your congregation to catch the vision of The Trellis and the Vine - of being disciple-making disciples of of Jesus Christ in every area of their lives?
The Course of your Life provides a framework to help apply the Word of God to people's lives so that their minds are changed and hearts transformed with a fresh love, joy and enthusiasm for serving Christ, not only as a disciple, but as a maker and grower of other disciples. It focuses on the central and profound issues of who God is, what He has done in Christ, what His extraordinary plans are for the world and how that relates to each of our daily lives.
The course consists of 9 seminars, 2 away days and one-to-one Bible reading. This course is designed to fire people up to give themselves to God's plans and to change the course of their lives - personally and specifically.
Author Tony Payne, who has written many of Matthias Media's most important and popular resources, says of The Course of your Life, "This is probably the most important thing I have ever written."
To run The Course of your Life, you will need:
- a workbook for each person
- a leader's guide (which also contains the material in the workbook)
- this leader's DVD (if you want to use the video clips instead of leading the seminars from the script)
Contents
What is The Course of Your Life?
How not to use The Course of Your Life?
Seminar videos:
Clip 1: Why are we here?
Clip 2: Who are we?
Clip 3: What went wrong?
Clip 4: Where to turn?
Clip 5: God's answer
Clip 6: God's sufficient word
Clip 7: The secret of life
Clip 8: Christ's death and ours
Clip 9: The logic of the Christian life
Clip 10: A killer's guide to sin
Clip 11: God's strategy involves us
Clip 12: Where to from here?
Intensive videos:
Clip 13: The disciple's commission
Clip 14: What about work?
Clip 15: Our work and God's agenda
Clip 16: Understanding church
Extra videos:
Invitation video
Matthias Media and God's agenda
Specification
| | |
| --- | --- |
| Author | Tony Payne |
| ISBN | 9781921896354 |
| Format | DVD video (Amaray) |
| First published | November 2011 |
| Dimensions | 135mm x 190mm x 15mm |
| Language | English |
| Publisher | Matthias Media |
Other information
I'm not a teary kind of bloke. Last night though, I was almost at the point of crying as we went around the room and people shared what they'd got out of doing The Course of your Life. In the week following the weekend away one lady has told virtually everyone she's met about Jesus and started praying all the time; another lady has cut back her excessive working hours and is praying far more frequently; three men shared how they've started speaking about Christian things in conversations at work where in the past they would have kept quiet; one of them gets in the car a few minutes earlier each day so he can pray for opportunities to speak about Jesus at work; another guy can't stop reading Colossians because it's just so exciting.
What was most significant was the changes in people's understanding that was driving these practical steps. Their world view has changed. They now have a different centre of gravity - Jesus. One man said he's always wanted God to show him a specific plan for his life and until then he could get on and do what he wanted. He now realises that God has a general plan that we all need to be involved in. It isn't just about becoming a Christian but also Christians ebing changed towards maturity. He finally knows what it means to have Jesus at the centre of his life. That not only comforts him but also directs him through real hardships in life.
- Dave Whittingham, Pastor of Kellyville Anglican Church, Kellyville, USA