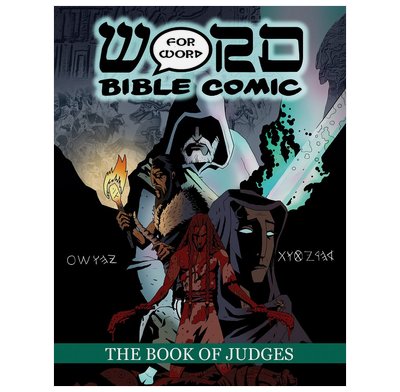 The Book of Judges: Word for Word Bible Comic
The Book of Judges is a 132 page graphic novel from the series: The Word for Word Bible Comic. This is the second edition version. For ages 15+
The Book of Judges is a 132 page graphic novel from the series: The Word for Word Bible Comic. This is the second edition version.
The comic presents every word of the ancient scripture, within its historical, cultural and geographical context. It is aimed at mature readers, primarily aged 15+.
Second Edition: This revised edition is now the uniform size with the others in the series. The pages are glossy and the artwork lightened up to resolve some darkness in the original. In addition, the narration typeface has been improved to make it easier to read.
The Story: Ancient fortresses lie in ruins and temples to dark entities have been torn down. In battle after battle, God has smashed the enemies of His holy nation and they have, at last, taken the promised land. But now His chosen people have turned their back on Him. Forgetting the great waters that parted before them and the massive city walls that shattered at their call, they leave God's way in the dirt and try to live life by their own rules. These dark centuries are a spiral of temptation, greed, lust, betrayal and tragedy. However, ordinary men like Samson and Gideon are called by an angel of heaven and given divine powers to turn the tide and save the people from annihilation. Although, it seems that even these heroes are not free from corruption.
Specification
| | |
| --- | --- |
| Age range: | |
| ISBN | 9780995603530 |
| Format | Paperback |
| Dimensions | 172mm x 248mm x 6mm |
| Language | English |
| Pages | 128 |
| Publisher | Word for Word Bible Comics |
"SO GOOD!"
This book is amazing! The art work is remarkable, well on par with mainstream graphic novels. The effort to ensure all the images are historically correct AND that every work of scripture is in there makes this a truly worthy addition to any bookshelf.
"Fantastic!"
This series is amazing! The images are so detailed and really help me to understand what it would have been like. I love that I can totally trust it to be a true bible translation too so I can use it for daily readings and understanding scripture. Highly recommended, even if you're not usually a comic book person!