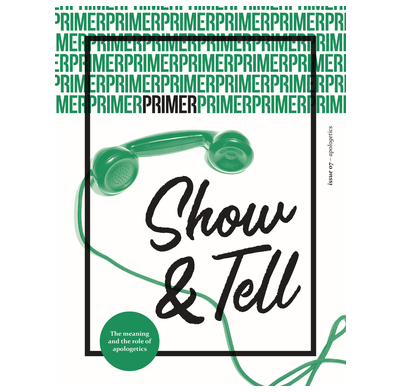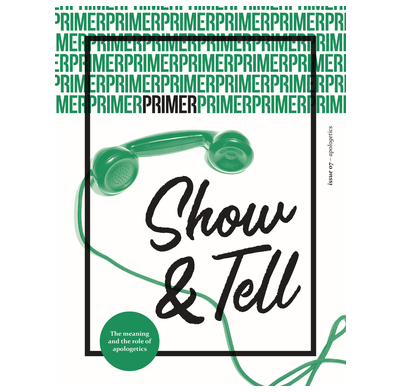 Show & Tell - Primer Issue 7
The meaning and the role of apologetics
The heartbeat of this issue of Primer is can churches put God's love on display? How can we preach in ways that connect and persuade? How does the Bible's account of humanity shape the way we evangelise? What resources are out there to help us?
Apologetics can be theological marmite. Some people love the thought of engaging with culture and thinking how best to 'tear down strongholds' or 'subversively fulfil' the latest trends. Others find apologetics intimidating, or suspect that it distracts from actually getting on with evangelism and betrays a lack of confidence in God's sufficient word.
In light of these questions, Primer 07 starts with Scripture, as Dan Strange asks what the Bible says about fallen human beings and how that should set the agenda for our evangelistic questions and methods.
Next, Matt Peckham is your guide to several recent books on apologetics, that help us explore everyday evangelism and ask good questions.
For our regular historical extract we have an excerpt from Blaise Pascal's Pensées – a published scrapbook of his thoughts on reason, miracles, happiness, and the centrality of Jesus to anything we have to say. Bill Edgar comes alongside to introduce them and reflect with us on their significance.
All three of these articles reject the idea that apologetics is some lofty and intellectualised pursuit, and the rest of Primer 07 is designed to reinforce that:
- Jonathan Leeman's article is a vital piece of the puzzle because it draws the church into the conversation. Jesus spoke about the way our love for one another makes the gospel visible – and yet this is regularly overlooked in discussions around apologetics.
- Gavin McGrath discusses apologetics and preaching, arguing that Scripture itself seeks to persuade us and subvert our assumptions about the world.
- Finally, to really bring the theme home, we have interviewed a number of churches about how they are engaging apologetically with their communities – what are the questions they face, how have they learnt to answer them, and how are they living out the gospel in compelling ways?
Contents
Introduction - Unapologetic - David Shaw
Our editor introduces the issue and articles
An Unholy Mess - Dan Strange
How our view of human nature shapes apologetics
In Defence of Madmen - Matthew Peckham
Apologetics through the lens of four recent books
Something Old - An Infinity of Infinitely Happy Life - William Edgar
An excerpt from Blaise Pascal's Pensees with commentary
We Come in Peace - Jonathan Leeman
Churches, time-machines and a gospel apologetic
Getting Behind the Wall - Gavin McGrath
Apologetics and preaching
Answers on the Ground - Stephen Kneale, Grace Forsythe & Matt Waldock
We asked three people how their churches tackle apologetic issues
Specification
| | |
| --- | --- |
| Contributors | David Shaw |
| ISBN | 9781784984311 |
| Format | Paperback |
| First published | November 2018 |
| Dimensions | 195mm x 255mm x 6.6mm |
| Language | English |
| Pages | 80 |
| Publisher | FIEC |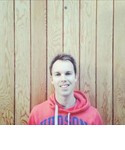 Primer: Show & Tell – A Review
Robin Ham, The Happy Certainty, March 27th 2019
Doing a bit of teaching on apologetics this year with CCL, I was thrilled when I discovered that the latest Primer is on that very theme: 'Show & Tell: The Meaning & Role of Apologetics'. For a topic that can often be akin to marmite amongst Bible-believing evangelicals (to caricature: "Don't bother with apologetics, just teach the Bible…" or "We're not meant to argue people into the kingdom"), this is a really helpful digest of careful theology and praxis.... continue reading
"Have you time to read anything else?"
For many of us keeping theologically sharp in ministry is a challenge. Getting the space indeed the head space to think carefully about theology is difficult especially when I have got all sorts of other pressing fires to fights. What should I do? What should I read when I actually do have some hard fought for time? Answer, read primer.

I have a read a number of these now. But issue 7 was really helpful. The last chapter of practical interviews on how people are seeking to put Apologetics into practice alone was worth the price tag (not that it is expensive).

Dan Strange gives an intro to the subject for whoever you are whether apologetically schooled, scared or skeptical. The book reviews helped cover a lot of material quickly and made me want to read further.

The intro to Pascal's Wager was a revelation! I had always thought of this argument somewhat cynically, but nowing seeing it in it's historical context as a critique of modern rationalism was terrific and Bill Edgar teases it out beautifully. Christian do you see that in the gospel there is 'an infinity of infinitely happy life to be won?'

Things get practical as Jonathan Leeman reminds us that the church itself is an apologetic. What a corrective! We don't just tell the gospel we show it too. Gavin McGrath addresses our preaching seeking to challenge us that it is not just that one off topical sermon that should be 'apologetic' but all our preaching should address the subversive surprises that the Bible raises the Lord addresses us. And those interviews at the end... food for thought. I for one will be getting us discussing them at our next elders meeting.
"Excellent practical introduction to apologetics"
This is a brilliant introduction to apologetics. The articles range from an in-depth look at the convictions underpinning apologetics, to reviews of recent books on apologetics, to a worked example of what apologetic preaching looks like. Finally, there are even examples of what apologetics looks like in a variety of church situations. Overall, a thorough yet accessible introduction to the subject.