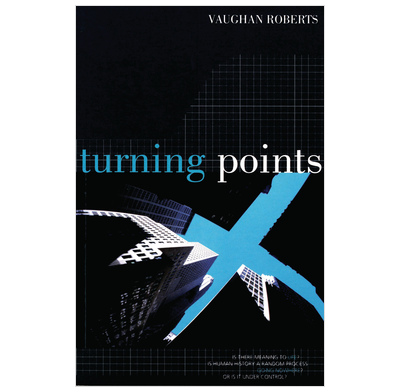 Turning Points
This book aims to help you see history as God sees it, so that you might fit in with his plans for the world.
Is there meaning to life?
Is human history a random process going nowhere?
Or is it under control - heading towards a goal, a destination?
And what about my life? - Where do I fit into the grand scheme of things?
These are topical questions in any age, but perhaps particularly so in a largely disillusioned post-modern era such as ours. Vaughan Roberts addresses these questions and others as he looks at what the bible presents as the 'turning points' in history, from creation to the end of the world.
This book does not read like a normal history book. No mention is made of the great battles and emperors of whom we learnt at school. It will not help you pass exams or score extra marks in a pub quiz.
It aims to do something far more important, to help you see history as God sees it, so that you might fit into his plans for the world.
Contents
Acknowledgements
Introduction
1. In the Beginning
2. Where it all went wrong
3. The God Who is There
4. The Down-To-Earth God
5. Dying to Meet You
6. The Day Death Died
7. Starting All Over Again
8. The End and the Beginning
9. Turning Point
Epilogue
Specification
| | |
| --- | --- |
| Author | Vaughan Roberts |
| ISBN | 9781850783367 |
| Format | Paperback |
| First published | February 2004 |
| Dimensions | 129mm x 198mm x 10mm |
| Print size | 10pt |
| Language | English |
| Pages | 178 |
| Publisher | Authentic Media |
Other information
Vaughn Roberts is Rector of St Ebbe's Church, Oxford. He has worked extensively with students and is a frequent speaker at University Christian Unions, and at conventions such as Word Alive and Keswick. He is a keen sportsman.
"Accessible Bible overview. "
Short chapters. Talk/sermon style language. Pictures (well, black and white diagrams). Sources quoted. A pretty good book that many can benefit from. Vaughan Roberts has written a variety of accessible books. This was originally published in 1999, so some of the illustrations have become a little dated. But to get a feel for the storyline of the Bible from creation to the new creation here's a worthwhile book. It will probably appeal more to a book-ish culture, but easily ransacked for other contexts too. An accessible Bible overview.
"Good for its intended audience"
Well written and presented, it takes an intellectual approach to the facts of the gospel, and deals with the issues in a logical, coherent sequence. There's a wealth of material here, which may put an undergraduate searching for a quick answer off. However, it's well worth a read and promotes serious thought.
A book for the thoughtful enquirer with a good education.