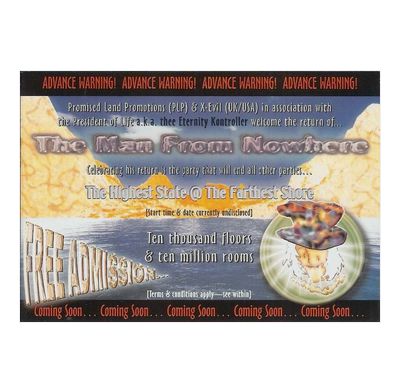 The Man From Nowhere - Club Flyer
An evangelistic booklet using the world of clubs, drugs & parties to introduce folk to the kingdom of heaven.
Eight page evangelistic booklet using the world of clubs, drugs & parties as a framework for introducing folk to the kingdom of heaven, the ultimate, largest & loudest freeparty of all. Written by a former dealer. Aimed primarily at those familiar with the drug & party music scene. Colourful contemporary gospel presentation.
The text is small, therefore this is not suitable for use with folk with bad eyesight. The leaflet has had extensive ground testing (10,000 have already been given out). Where people think Christianity is about grey suits, grey ties and grey faces, about being dead before you really are, the record has been set straight: Jesus came to offer abundant life. It is an invitation to those whom, as Isaiah puts it, 'spend money for what is not bread, and labor for what does not satisfy... [to] listen carefully to the Lord, and eat what is good, and let their souls delight in abundance.'
Specification
| | |
| --- | --- |
| Author | Thomas Seidler |
| ISBN | 000093114 |
| Format | Tract |
| First published | June 2004 |
| Dimensions | 148mm x 105mm x 0.5mm |
| Language | English |
| Pages | 8 |
| Publisher | The Good Book Company |
Other information
The folk behind this having formerly spent much of their existence plugged in to tunes and drugs, seeking after happiness & finding mainly - in the end - pain, much much pain, bumped into Jesus Christ and some years on thought something like this:
"Man, if only someone had told us this wildness back in the day, it moves the mind, I might have listened had I really known it wasn't about wearing a suit and a tie, and being boring and a bible basher, and doing good etc etc. Maybe if someone had told me the revolutionary truth my mind and heart might have been blown a little more to consider this electrocutin' arab carpenter [that is, Jesus Christ, King of kings & Lord of lords] a whole LOT more seriously."
So this piece of literature was born to try to make that reality for others.
Incidentally, the prime intended use for this flyer is to hand out outside raves at 5/6am or whenever they end. You & your friends, will normally join a motley crew of other non-Christian flyer-ers and hand out boldly to those coming out, they will either take them or not. They expect you to be there, and would be shocked if you weren't. They read em when they come down [from the drugs], or the next day, or on the tube on the way home etc. It is very easy to dispose of them in this manner, much prayer must go into where it goes beyond that, if the Spirit of God is to pour His gospel about Jesus into their minds, through this little piece of literature... If you are doing this in London let us know, so we don't duplicate efforts: friend@x-evil.com.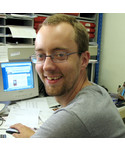 Thomas Seidler
This is awesome!