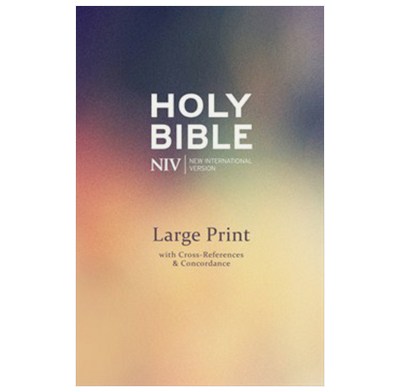 NIV Large Print Single Column Deluxe Reference Bible
NIV Large Print Single Column Deluxe Reference Bible with 12pt single-column text
New International Version Large Print Bible with 12pt, single-column text, cross-references and concordance. This hardback edition is ideal for churches to supplement their stock of pew Bibles.
Since it is very important for readers to see the words of the Bible clearly on the page, the increased text size used in this large print setting of the NIV Bible is 12pt on 14pt leading, which is very easy to read. Cross-references are included in the outer margin on each page.
This Bible is bound in navy blue Baladek material, with a smart, softly coloured dust-jacket, which may be removed. The Bible has two blue ribbon markers.
This edition uses British spelling, punctuation and grammar to allow the Bible to be read more naturally.
With over 400 million Bibles in print, the New International Version is the world's most popular modern English Bible. It is renowned for its combination of reliability and readability. Fully revised and updated for the first time in 25 years, the NIV is ideal for personal reading, public teaching and group study.
Specification
| | |
| --- | --- |
| ISBN | 9781473603486 |
| Format | Hardback |
| First published | May 2015 |
| Dimensions | 156mm x 234mm x 47.3mm |
| Print size | 12pt |
| Language | English |
| Pages | 2208 |
| Publisher | Hodder & Stoughton |
Other information
Worried about size?
Download our type-size guide to check which font size is right for you.
"Good readable text"
Excellently readable text but not quite as slim as the illustration would suggest - also margin references are a bit small to read. The concordance also is not quite as comprehensive as my previous versions. Again, board covers do not give the same feel as the more expensive leather bound editions. - But overall, good value for money when compared to others.