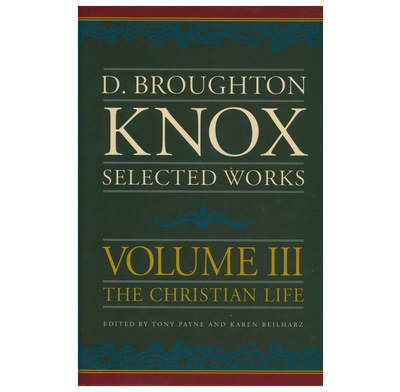 D B Knox: Collected Works (Vol III)
The Christian Life
Contains a selection of DB Knox's writings on the broad theme of 'the Christian Life'.
'It is not too much to say that no other contemporary Australian Churchman has had a more original mind or has shown a more penetrating insight into questions of pure Theology, and that insight was derived from his understanding of the supreme revelation of truth in the bible.'
Sir Marcus Loane's assessment of D B Knox would be shared by many who knew him. And yet the majority of Christians, both in Australia and overseas, know little of Broughton Knox's massive influence on Australian Christianity, let alone his impressive literary output.
This volume, the thiord and final in the series, aims to bring that output back into the public arena. It contains a selection of Broughton Knox's varied writings on the broad theme of 'the Christian life', many of them previously unpublished.
It includes:
- 'The Gospel of the New Testament', an unfinished and previously unpublished manuscript on the nature of the New Testament 'gospel'.
- Material expounding the Christian response to that gospel.
- Articles adapted from his radio broadcasts and chapel sermons on how the gospel shapes the Christian's relationship to broader society.
- Indexes which make it a useful reference for Bible study leaders, theological students and pastors.
This stimulating volume is an excellent resource for all thoughtful Christians.
Contents
Preface
Part 1: The Gospel of the New Testament
1. The God of the gospel
2. The message of the gospel
3. The preachers of the gospel
Appendix to chapter 2: The meaning of the word 'gospel'
Part 2: The Christian Life
1. Justification
2. The chief end of man
3. The normal Christian life
4. Love and the obligation of love
5. Jesus, Jesus Himself
6. The Holy Spirit
7. Forgiveness and its assurance
8. Prayer
9. Thankfulness
10. Joy
11. Spiritual depression
12. The Christian and money
13. How to grow as Christians
14. The Christian family
Part 3: The Christian in Society
1. The gospel and society
2. Civil disobedience
3. Social justice or compassion - what is the Christian motivation?
4. 60th anniversary of the USSR
5. The train strike: right or wrong?
6. Animal farm
7. The resurrection and permissiveness
8. Why obscenity should be censored
9. The woman's year
10. Abortion
11. Gambling
12. Race
13. Education
14. Naked bathing beaches
15. Responding to disaster
16. Sunday trade
17. Inflation - a new sin?
18. Wealth
General Index
Bible Passages Index
Specification
| | |
| --- | --- |
| Author | D Broughton Knox |
| ISBN | 9781921068416 |
| Format | Hardback |
| First published | October 2006 |
| Dimensions | 160mm x 240mm x 21mm |
| Language | English |
| Pages | 236 |
| Publisher | Matthias Media |
"Far exceeded my expectations!"
(Review written for 'D B Knox: Collected Works (Vol I)')
I just bought a book from these guys which is out of print, the price of the book plus postage worked out at less than half the price from anywhere else. Delivery was very quick, I live in Australia. Book was in perfect condition.

The process was simple and easy, the product was perfect, and I highly recommend buying through thegoodbook.com.uk