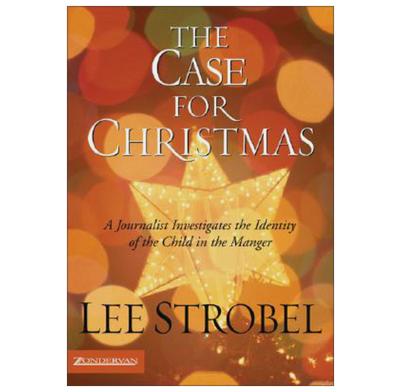 The Case for Christmas
A Journalist Investigates the Identity of the Child in the Manger
Lee Strobel searches out the true identity of the child in the manger.
Great deals for bulk purchases.
- Buy 10 copies for £1.80 each.
- Buy 50 copies for £1.60 each.
Who was in the manger that first Christmas morning?
Some say he would become a great moral leader. Others, a social critic. Still others view Jesus as a profound philosopher, a rabbi, a feminist, a prophet, and more. Many are convinced he was the divine Son of God.
Who was he - really? And how can you know for sure?
Consulting experts on the Bible, archaeology, and messianic prophecy, Lee Strobel searches out the true identity of the child in the manger. Join him as he asks the tough, pointed questions you'd expect from an award-winning legal journalist. If Jesus really was God in the flesh, then there ought to be credible evidence, including
Eyewitness Evidence - Can the biographies of Jesus be trusted?
Scientific Evidence - What does archaeology reveal?
Profile Evidence - Did Jesus fulfill the attributes of God?
Fingerprint Evidence - Did Jesus uniquely match the identity of the Messiah?
The Case for Christmas invites you to consider why Christmas matters in the first place. Somewhere beyond the traditions of the holiday lies the truth. It may be more compelling that you've realised. Weigh the facts ... and decide for yourself.
Specification
| | |
| --- | --- |
| Author | Lee Strobel |
| ISBN | 9780310254768 |
| Format | Paperback |
| First published | October 2010 |
| Dimensions | 107mm x 172mm x 7mm |
| Print size | 10pt |
| Language | English |
| Pages | 96 |
| Publisher | Zondervan |
"It's very important book for Christian faith"
(Review written for 'Case for Christ')
Importance of Christian defender is giving a answer to those who ask you for a hope that you have
"Ideal antidote for the Christmas cynic"
Lee Strobel's The Case for Christmas (with parts taken from his The Case for Christ) is a fascinating way to present the incarnation of God in Christ as both historically and theologically sound. Using his tried and tested approach of interviewing academics on aspects of the 'case', Strobel investigates the child in the manger – fact or fiction, mere peasant baby or Son of God?

Strobel's background as a legal journalist with the Chicago Tribune helps to turn the analysis of the Christmas story into a crime scene-type investigation which should appeal to many. I like especially his reminiscences, both of journalistic investigations and his journey from atheism to faith, as they turn the book's approach from pure academic to personal searching for a reality where discovering the truth about Jesus leads to transforming lives. This makes the book (especially the cheaper mass market edition) ideal as a giveaway to non-Christians and those asking questions. In the lead-up to Christmas, I referred to the book in a sermon and offered free copies afterwards. People were keen to receive it. I am pleased to recommend the book highly. It contains enough details and bibliographical information for the would-be 'crime scene investigator' to probe further into the case for Christmas.