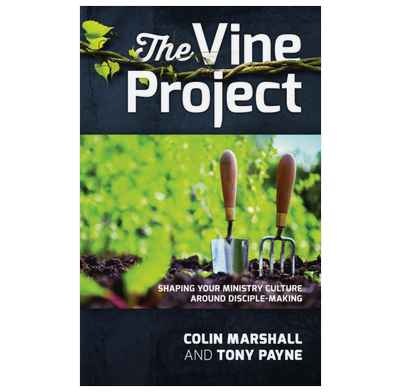 The Vine Project
Shaping your ministry culture around disciple–making
Following on from the vision set out in The Trellis and The Vine, this publication provides the roadmap and resources to shape the whole culture of your church around disciple–making.
In this much–anticipated book, Colin Marshall and Tony Payne answer the question they have been asked countless times by pastors and church leaders all around the world since the publication of The Trellis and the Vine. The question goes like this:

"Look, I've read your book, and it expresses what I have always thought about Christian ministry. But as I kept reading, I had this sinking feeling that what actually happens in our church is still a long way from the kind of disciple–making ministry vision you outline and that I believe in. So my question is this: What can we do about it? How can we shape the whole culture of our church around disciple–making?"

In The Vine Project, Marshall and Payne provide a roadmap and resources for this sort of church–wide culture change. The book guides your ministry leadership team through a five–phase process for growth and change, with biblical input, practical ideas, resources, case studies, exercises and projects along the way. You will be helped to:

Phase 1: Clarify and sharpen your convictions

Phase 2: Reform your own personal life to express these convictions

Phase 3: Honestly evaluate every aspect of your current church (or ministry) culture

Phase 4: Devise some key plans for change & put them into effect

Phase 5: Keep the momentum going and overcome obstacles
The Trellis and the Vine proposed a "ministry mind–shift that changes everything". The Vine Project shows how that mind–shift can and must shape every aspect of what you are doing as a congregation of Christ's people to make disciples of all nations.
Contents
Acknowledgements

Setting the scene

The big question

Changing the culture

Phase 1: Sharpen your convictions

Introduction

Conviction 1: Why make disciples?

Conviction 2: What is a disciple?

Conviction 3: How are disciples made?

Conviction 4: Who makes disciples?

Conviction 5: Where to make disciples

Summary

Phase 2: Reform your personal culture

Phase 3: Loving, honest evaluation

Phase 4: Innovate and implement

Introduction

Focus Area 1: Make Sunday a flagship

Focus Area 2: Design pathways that move to the right

Focus Area 3: Plan for growth

Focus Area 4: Create a new language

Phase 5: Maintain momentum

Epilogue

Appendices

i. The Trellis and the Vine: What did you miss?

ii. Thevineproject.com

iii. Rethinking small groups

Specification
| | |
| --- | --- |
| Author | Tony Payne, Colin Marshall |
| ISBN | 9781922206947 |
| Format | Paperback |
| First published | May 2016 |
| Dimensions | 147mm x 232mm x 20mm |
| Language | English |
| Pages | 360 |
| Publisher | Matthias Media |
"it's a guide for a project, a self-described roadmap for a journey toward a healthier disciple-making culture"
Kevin Halloran, 9Marks, July 1st 2016
The pattern of Scripture is often the slow, hard, and messy road. Reading and implementing The Vine Project will remind you that God meets us on that hard and messy road when we, as God's people, prayerfully and patiently proclaim his good Word to others.... continue reading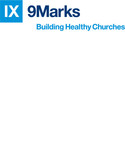 "Uniting robust theological convictions with leadership skills and organizational wisdom"
Nathan Malpass, 9Marks, July 25th 2016
If you didn't pick it up from the title of the book, you'll realise by now that The Vine Project is not like other ministry books. It's a long-term project to work through and implement with others. It's designed to be read and digested and implemented—and then re-read and re-implemented over the years.... continue reading