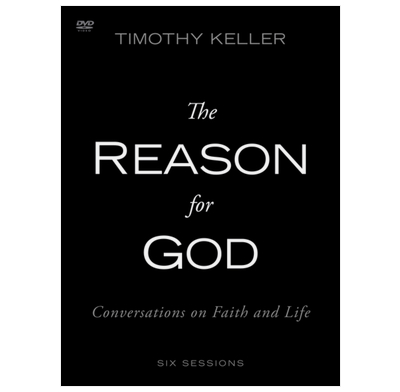 The Reason for God DVD
Conversations on Faith and Life
Tim Keller leads six unscripted discussions on common objections to Christianity.
Watch the trailer and first session
Captured live and unscripted, pastor and author Timothy Keller meets with a group of people over six sessions to address their doubts and objections to Christianity. Using literature, philosophy, real-life experiences, and the Bible, Keller and the group explore the truth of Christianity.
This DVD will help you think about and engage others in dialogue on six common objections to Christianity.
Independent review here: http://theothercriminal.wordpress.com/2011/02/09/resource-review-reason-for-god-discussion-guide-and-dvd/
Contents
Session Titles:
1. Isn't the Bible a Myth?
Hasn't science disproved Christianity?
2. How can you say there is only one way to God?
What about other religions?
3. What gives you the right to tell me how to live my life?
Why are there so many rules?
4. Why does God allow suffering?
Why is there so much evil in the world?
5. Why is the Church responsible for so much injustice?
Why are Christians such hypocrites?
6. How can God be full of love and wrath at the same time?
How can God send good people to hell?
Specification
| | |
| --- | --- |
| Author | Dr Timothy Keller |
| ISBN | 9780310330462 |
| Format | DVD video (Amaray) |
| First published | February 2011 |
| Dimensions | 138mm x 187mm x 8mm |
| Language | English |
| No. of studies | 6 |
| Publisher | Zondervan |
Other information
Please note that this DVD was produced in the US and is encoded as NTSC. Most modern DVD players have no problems playing either NTSC or PAL encoded DVDs. Please check your DVD player (especially if it's an older model) to ensure it will play correctly.
"Reasons for God"
As with all of Tim Kellers courses there are discussion questions mixed with a DVD. They are very well thought out and presented. The DVD consists of him heading discussion with non Christians on key points in apologetics. The only problem, as with all his bible studies, is that they tend to be aimed at people from a professional class and tend to expect a university degree background. It can appeal to a wider audience but this I think requires the leader to do a bit of reworking to make it more accessible. It certainly is challenging and also profoundly relevant to contemporary culture that as Christians we must engage.