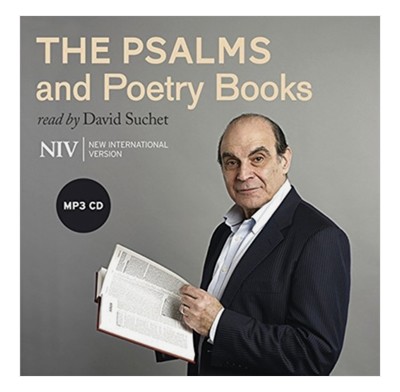 The Psalms and Poetry Books
Read from the NIV
David Suchet, reads the Psalms and other poetry from the Holy Bible, New International Version.
*** PLEASE NOTE: THIS IS AN MP3 CD***
On this MP3 CD, British actor David Suchet reads one of the most famous and beautiful books of the Bible - the Psalms. The CD also includes the books of Job, Proverbs, Ecclesiastes and Song of Songs.
Narrated with feeling and flair, David Suchet lends his melodic and unrushed voice to some of the most deeply heartfelt and profound passages of Scripture. Reading from the New International Version, the world's most popular translation in modern English, Suchet's recording is perfect to listen to at home, at church or as you travel.
This MP3 can be used on any device that displays the MP3 symbol. You can transfer the audio files for your personal use onto your computer, smartphone, MP3 player and other compatible devices.
Specification
| | |
| --- | --- |
| Author | David Suchet |
| ISBN | 9781473617261 |
| Format | CD-Audio |
| First published | March 2015 |
| Dimensions | 125mm x 125mm x 10mm |
| Language | English |
| Publisher | Hodder & Stoughton |
"Excellent product"
I would highly recommend this version of the spoken Word. David Suchet reads with such compassion of the Spirit you are soothed by what you are hearing. Being a Shakespearen actor his diction and accentuation are perfect. His voice is very gentle; again drawing you in to what you are hearing.
As it is just his voice and no added music or accents I find it very easy to focus on what is being said. I great tool for meditating on the Word and wonderful for listening to in the car.
"Great gift"
I bought this for my parents as a father's day gift, and they have enjoyed listening to it on drives to visit family up and down the country already. Recommended by them!