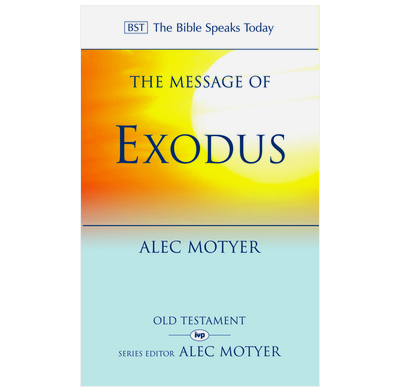 The Message of Exodus
In this warm-hearted and insightful exposition, Alec Motyer unfolds what Exodus testifies about the Bible's God.
The whole story of the Old Testament book of Exodus is a covenant narrative. The God who pledged himself to Abraham and his descendants remained the faithful God - he made promises, and honoured them. He revealed himself to Moses, claimed Israel as his own, brought them out of slavery in Egypt, cared for them through long wilderness years, and finally gave them the land he had pledged to their fathers.
In this warm-hearted and insightful exposition, Alec Motyer unfolds what Exodus testifies about the Bible's God, in what ways it points to Jesus Christ and heralds him in advance, and how it bears on the nature and life of the people of God - their redemption, obedience, security and inheritance.
Part of The Good Book Company's Commentary List, this commentary has been selected because it not only deals faithfully and carefully with God's Word but is readable, practical and accessible as well.
Contents
Contents
Introduction
1. Days of darkness (1:1-2:10)
2. The turning point (2:11-25)
3. Old Moses...new Moses (3:1-10)
4. A Sneak preview (3:11-7:7)
5. The God who is sufficient (3:11-22)
6. The God who is able (4:1-31)
7. Interlude: into the arena (4:14-28)
8. Yes...No...Why?...Now (4.29-7:7)
9. Viewpoint (7:8-13:16)
10. Why plagues? (7:14-10:29)
11. Why the Passover? (11:1-12:42)
12. Remember and respond (12:14-13:16)
13. The next stage: the compassionate God
14. God's curious ways (13:17-17:16)
15. Where we've reached and where we're going (19:1-2)
16. To meet with God (19:3-25)
17. The ten words (20:1-20)
18. The Lord means his Law and loves his people (20:22-24:11)
19. The Lord's tent (24:12-27:19)
20. The way into the Holiest (27:20-30:10)
21. Practicalities (30:11-31:18)
22. A dreadful step back, a huge step forward (32:1-34:35)
23. The glory cloud (35-40)
Specification
| | |
| --- | --- |
| Author | Alec Motyer |
| ISBN | 9780851112961 |
| Format | Paperback |
| First published | August 2009 |
| Dimensions | 135mm x 215mm x 24mm |
| Language | English |
| Pages | 327 |
| Publisher | IVP |
"A breakthrough Commentary that has strengthened my faith in Christ."
This Commentary on Exodus by Alec Motyer has provided a breakthrough in my understanding of two things - in its exposition on the Ten Commandments the motivation behind all of God's commands to us, and in that on the hardening of Pharoah's heart the interplay between God's will and Pharaoh's will. Firstly, beginning with that to Adam and culminating with that of Christ , God's commands are for our benefit not His. So we are to live the way God wants us to live because of who He is and what He is like. " The law of God reflects the character of God " and therefore obedience to God's law is the way to be like Him and to be what He created us to be resulting in our " true freedom" ( life in relationship with God). So the giving of the Law is a function of God's love as is our Redemption. Secondly, Pharaoh's decisions cause his heart to be " increasingly set in its ways" which at some point become fixed - a point that only God knows and determines. This breakthrough in understanding these two things has strengthened my faith in Christ as " the way and the truth and the life".