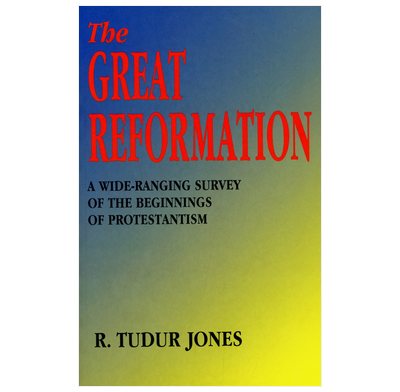 The Great Reformation
A wide-ranging survey of the beginnings of protestantism
A wide-ranging survey of the beginnings of protestantism.
When the Augustinian monk Martin Luther rediscovered the biblical truth that God graciously justifies sinners, he had no idea to what this would lead - a religious awakening which profoundly altered the course of European history. Though the Reformation is oftern regarded as a closely integrated movement, it in fact took many forms. It therefore requires a wide-ranging analysis. This Dr R Tudur Jones skillfully provides in a survey which ranges from Iceland to Poland, from Wales to Spain.
Here is a concise and readable introduction to a critical period in the life of the church.
Contents
Preface
1. Roman Catholicism in crisis
2. Pioneers of reform
3. Signs of renewal
4. The gate of paradise
5. True forgiveness
6. The unforgettable stand
7. Zwingli's call to action
8. From loneliness to social tumult
9. The Word of God remains for ever
10. Advance and dissent at Zurich
11. Militant Protestantism
12. New evangelical strongholds
13. A challenge to Christendom
14. Restoration, revolution and reason
15. Reform in Denmark, Norway and Iceland
16. Reform in Sweden and Finland
17. A glorious and sweet society
18. A royal dissenter
19. A reluctant reformer
20. The Christian's service
21. A school of Christ
22. War and peace in Germany
23. The struggle for reformation in France
24. A young Josiah
25. Reaction and settlement
26. Anglican reformation in Wales
27. Conflict in Ireland
28. Blasts on the trumpet
29. Water and blood
30. Militant Calvinism
31. Dissent in Italy
32. Brief harvest in a golden age
33. The clash of convictions in Poland
34. Argument and liberty in Hungary
35. In the steps of John Hus
36. The revival of Roman Catholicism
37. The heart of the Reformation
38. Life is religion
Further reading
Name and subject index
Specification
| | |
| --- | --- |
| Author | R Tudur Jones |
| ISBN | 9781850491279 |
| Format | Paperback |
| First published | March 2004 |
| Dimensions | 148mm x 230mm x 19mm |
| Print size | 10pt |
| Language | English |
| Pages | 288 |
| Publisher | Bryntirion |
Other information
'The Great Reformation is an outstanding text. It is well conceived, clearly written and academically sound...a most satisfying introduction to a vital period in the history of the church.'
- Mark A Noll, professor of church history, Wheaton College, USA
"Don't bother with this book"
This book is a mixed blessing in some ways. One book devoted to a subject as complex as the reformation is bound to be shallow, but I felt that this one was particularly so. It does have chapters devoted to the Reformation in Finland, Hungary and Poland, unlike most general books on the subject, but this doesn't make up for the lack of detail about everything else.

It reads like a text book, which means that a general reader would find it boring. Unfortunately there is such lack of depth that a reader who can stand the academic style of the writing would not be very interested either. I do not know what kind of reader I would be able to recommend this book to.

As a matter of fact, I had brought it into the office today in order to drop it off at a charity shop.
"Excellent"
This book is a realy good read. It is well written and a perfect partner for the Moore College Reformation Module. There is a lot of information included but presented well so you don't get bogged down. Definately one I would recommend reading if you are interested in this period of history