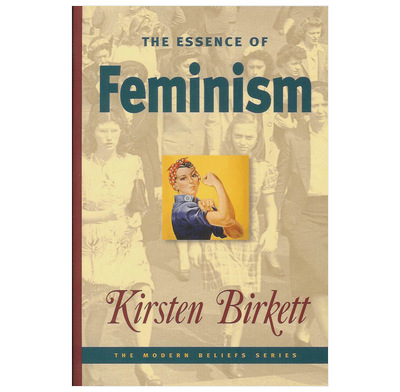 The Essence of Feminism
An introduction to the feminist movement and its impact on women today.
Things aren't easy for the modern woman. Her life is full of unpleasant choices and hard realities. She bears the brunt of social forces which often leave her confused and frustrated.
Why is this?
There are no doubt many explanations, but Kirsten Birkett proposes a radical one: that feminism itself, more than any other factor has made life worse for women over the past 30 years. In this meticulously researched book, Dr Birkett shows that the massive social project called 'feminism' has been detrimental to women in almost every facet of life, and that as a movement it is glaringly deficient both philosophically and ethically.
The Essence of Feminism is required reading for anyone seeking to understand and respond to the most significant social movement of our generation.
Contents
Preface
About The Essence of Feminism
Chapter 1: The Problem with many names
Chapter 2: What is feminism?
Chapter 3: The feminist mind
Chapter 4: The morality of feminism
Chapter 5: Feminist history
Chapter 6: Once a feminist
Epilogue: Christianity and women
References
Specification
| | |
| --- | --- |
| Author | Kirsten Birkett |
| ISBN | 9781876326258 |
| Format | Paperback |
| First published | January 2004 |
| Dimensions | 138mm x 208mm x 9mm |
| Language | English |
| Pages | 144 |
| Publisher | Matthias Media |
"A Fascinating and Unique Book"
This is a fascinating and unique book. It's hard to imagine another doing justice to such a broad and complex subject whilst being so detailed, well-researched and persuasive. I came away having found a much firmer footing on issues on which, up to now, I had lacked confidence to argue. It's also an incredibly brave book: one can almost hear the shrieks on social media when the author calls out ideas which have been accepted for generations.

In terms of who would like it, fans of the Rosaria Butterfield books will find a similar intellectual commitment here. (A conference with both those women on the podium would be an exciting prospect!) It would certainly be of value to a Christian student who is about to embark on a course where feminism will be a topic; however, given the prevalence of feminism in almost every aspect of our society at the moment, I struggle to think of (female, especially) believers who would not benefit from reading it.