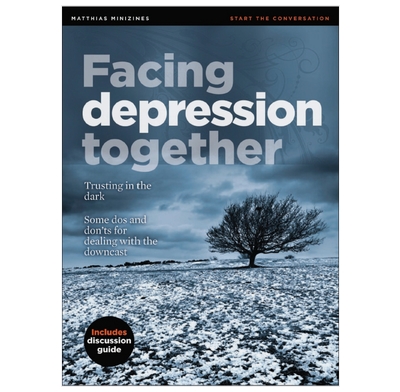 Minizine: Facing Depression Together
Start the Conversation
Encouragement all to keep looking to God and acting with grace and wisdom in the face of discouragement and despair.
Depression is a black pit for the sufferers and no fun for the carers. But on this side of Jesus' return, it will continue to be a feature of church life. This MiniZine is designed to help churches and Bible study groups talk about the issues involved with facing depression and anxiety as Christians, and reflect on them from the perspective of God's gospel.
These articles will encourage all involved to keep looking to God and acting with grace and wisdom in the face of discouragement and despair.
Contents
Trusting in the dark
Dos and Don'ts when dealing with the downcast
Spiritual depression: its causes and cure
Specification
| | |
| --- | --- |
| ISBN | 9781921441677 |
| Format | Saddle stitch |
| First published | June 2010 |
| Dimensions | 175mm x 240mm x 2mm |
| Language | English |
| Pages | 16 |
| Publisher | Matthias Media |
Other information
What is a MiniZine?
It's not a booklet, or a leaflet, or a tract. It's not a full-sized magazine either. It's somewhere in the middle: a short collection of articles, in an economical, easy-to-read format, with a discussion guide included.
The aim is simple: to provide high-quality Bible-based input to help Christians encourage each other.
MiniZines are ideal for giving away, for starting personal conversations, and for small group discussion
"Very helpful"
As a pastor, I found this a helpful starting point for reading and was also well received by the relative of someone in the congreation facing depression. However, I wouldn't receommend it for someone actually in the depths of depression.
"Biblical, real, honest and compassionate"
I found these articles helpful as they are grounded in the reality that many Christians suffer from aniety and depression. Whilst acknowledging that that Christ gives us everthing we need for a life if godliness it is also clear that godliness is not something we can grasped, but is approached with humilty and weakness. We remember that there is no condemnation for those in Christ Jesus and also that we are all included in Him and that his word and call to repetance applies to us all. I think Christians suffering from depression and/or anxiety can sometimes live in shame or denial - neither of which is Godly. These articles encourage Christian brothers and sisters to be honest about depression and anxiety, to show compassion and demonstrate practical love in action for one another. We must rely on God and His word for strength and wisdom and show sensitivity and a loving response to the reality of what some of us suffer.